At-home microneedling kits are not as invasive as medical grade devices that professionals use
Reviews are mixed on how much benefit home devices provide
When microneedling isn't done right, there's a real risk that it may cause skin damage
What is microneedling?
Microneedling is performed by rubbing a device covered with hundreds of tiny needles over the skin causing small wounds in the outermost layers of the dermis. These microchannels stimulate the body to produce collagen, the protein that gives the skin its elasticity, and also allow serums and other topical products to be better absorbed.
The concept fascinates me, but my feeling before I started researching at-home microneedling was that the rewards aren't worth the risk.
New York City-based cosmetic dermatologist Dr. Marina Peredo agrees.
"I don't think they work as well as in-office microneedling," says Peredo. " And can be quite dangerous if not used properly. I've actually had patients come in with injuries, scars, and indentations from using the devices incorrectly or too aggressively."
While Peredo is wary of cheap, at-home microneedling devices, she does see benefits in the treatment when it's performed by experts. At her busy practice in Upper East Side Manhattan, she often combines platelet-rich plasma (PRP) facials  — also known as vampire facials — with microneedling to promote healing and help the growth factors penetrate deeper into the skin.
"We mainly do microneedling on younger patients who are interested in less invasive procedures to address acne scarring. It helps smooth the skin's texture, while reducing the appearance of large pores," says Peredo.
The key difference between a do-it-yourself microneedling kit and the medical grade devices that professionals use: home devices are not as invasive, and have much smaller needles than those used in a dermatologist or plastic surgeon's office.
If you still want to try it, Peredo advises that think of it as a substitution for a facial. "Your expectation should be to end up with a nice glow. If you are hoping to smooth your skin tone or get rid of acne scarring, you will most probably be disappointed."
>> Read more about microneedling to get rid of acne scarring and other skin concerns
Dr. Peredo's recommendations for at-home use:
Make sure you are using disposable needles.
Sterilize your device with rubbing alcohol before storing it in its case. If you can't keep the device clean, toss it and get a new one.
If you suffer from cold sores, makes sure you medicate properly.
If you have skin lesions, don't use an at-home device.
Before buying a device, check consumer reports to see if it got bad reviews.
If it gets invasive, stop. Most at-home devices should not draw blood, which can cause scarring.
Reviews: What real users have to say
California-based Amanda Kass has sensitive skin and uses the GloPro (reviewed below).
"I think it works really well and I like it a lot," she says. "Actually, the plastic surgeon I go to recommended I try it. It feels like a rough exfoliation, but it doesn't pinch or prick my skin. I use it a few days a week to increase collagen, and I think it really does."
New York freelance journalist Lilly Dancyger uses the Healthy Care Derma Roller (also reviewed below) to erase fine lines, but hasn't seen any results yet. "I've been doing it every couple of weeks for the past few months, but to be honest I can't really tell if it's made a difference."
Dancyger says the logic behind the device seems sound, so she won't give up just yet. "One thing that makes it difficult is that I've found you can't really wear makeup for 24 hours afterward, or it stings. So, I only do it when I don't have to leave the house the next day." She seconds Kass' opinion that it feels like using a very abrasive scrub.
Is it safe?
When microneedling isn't done right, there's a real risk that it may cause skin damage. In this video, aesthetician Kerry Benjamin of Stacked Skincare in Los Angeles explains the proper technique.
According to Benjamin, you should apply serum 3-5 times a week, then roll vertically, horizontally, and diagonally over your face for no more than two minutes. On her website she advises using needle sizes of no more than .30 mm.
Best microneedling at home products
Here are four of the most popular devices out there. With professional microneedling treatments often priced at over $250, you really can't beat the low cost of an at-home roller. Still, use your best judgment, and keep Peredo's advice in mind — don't go overboard.
1) Healthy Care New 540 Micro Needles Titanium Microneedle Derma Roller Needle Skin Care, 0.25 mm
You can't beat the price. Healthy Care's roller delivers, and has very small needles so you are less likely to damage the skin.  Some people also prefer their rollers a bit larger, and this one is very small. If you are in a rush, you might not want to wait the three to six weeks for shipping that product requires.
2) RegenaGlow Derma Roller for Face and body
The RegenaGlow Derma Roller is a complete microneedling package that includes an organic cotton carrying bag, a storage case, a cleaning cup, and a serum bottle. An e-manual rounds out the bundle, providing tips and tricks for optimal roller use.
The roller's 540 titanium needles are guaranteed not to break, bend, or dull. It also comes with a 60-day money-back guarantee.
3) HANU Beauty Premium ZGTS Derma Roller
While there are many dermarollers on the market, few beat the ZGTS in terms of design. Its premium build marries a luxurious look with an ergonomic form for a great at-home microneedling experience.
The ZGTS boasts a 192 titanium needle roller, with each needle coming in at a solid 0.25mm in length. If you are looking to try it out, Hanu offers a 30 day money back guarantee to ensure satisfaction.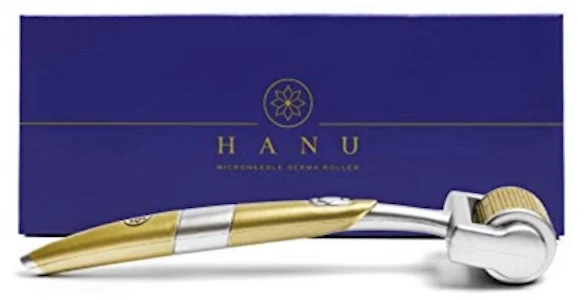 Takeaway
For those of who still aren't convinced, here are some final words of advice from Peredo: "If you choose to undergo a professional microneedling treatment instead, make sure you do your research, and go to a board-certified dermatologist or plastic surgeon that is reputable, licensed, and has good reviews. This is not the time to use a Groupon."