Most breast implant scars are flat and gradually blend in over time.
Factors affecting their appearance include genetics, age, past sun exposure, skin elasticity, and skin tone.
There are several steps you and your surgeon can take to minimize the scarring.
Postoperative breast implant scarring is one of the most common concerns among women who are considering breast augmentation. Fortunately, there are many precautions that can be taken — both prior to and after surgery — that should minimize breast implant scars and make sure they're all but invisible to just about everyone.
We recently spoke with David Whiteman, MD, a board-certified plastic surgeon currently based in Atlanta, Georgia, to gain a better understanding of the factors that affect breast implant scarring, as well as what can be done to encourage proper healing and a positive result.
Types of Breast Implant Scars
According to Dr. Whiteman, most scars left after breast augmentation are flat and with time will gradually blend in with the patient's natural skin tone. That being said, there are two additional types of scars that can form in rare cases: hypertrophic and keloid scars.
"Hypertrophic scars are raised, thick scars that occur at the incision site," says Whiteman. "Keloid scars are hard, irregularly shaped scars that develop when the skin is breached and excess scar tissue grows over the site of the incision. Some breast augmentation patients may be prone to keloid or hypertrophic scarring, although it's rare."
Factors That Affect Scarring
Breast augmentation scars typically have a red, raised appearance for a year or longer but then fade until they appear in the form of a thin white incision line. However, this isn't always the case.
According to Whiteman, both the duration of healing and extent of scarring are different in every patient. "There is no definitive timetable since every patient heals differently," he says. "The scar tissue will go through several stages of healing in the months following surgery and may take up to a year to fully mature."
Many different factors affect the appearance of scars. For example, patients with dark skin are more likely to develop keloids and raised scars while those with light skin are more likely to have visible scars due to the contrast between the scar color and skin tone.
Aging is another factor. "Scarring in younger patients is sometimes more minor due to their higher rate of collagen production, which allows for faster healing," explains Whiteman. He adds that scarring can also depend on the patient's skin elasticity, tone, and the length and depth of their incisions.
Additional determining factors include genetics, past sun exposure, elasticity of the skin, and skin tone.
And though it may seem obvious, Whiteman emphasizes the importance of ensuring you are a good candidate for breast surgery before proceeding with surgery. So long as you're in good health and have realistic expectations, you probably are a good candidate.
Of course this is something you can only know for sure after consulting with a qualified surgeon. During this initial consultation your surgeon will ask about your medical history and your expectations for the procedure. He or she may also conduct a physical assessment and/or advise you to undergo blood testing.
Preventative Steps: What You Can Do
According to Dr. Whiteman, some degree of scarring is unavoidable after receiving breast implants, but patients should remember that these scars are usually quite minor and inevitably fade over time.
That being said, there are several steps you and your surgeon can take to encourage minimal scarring.
On your part, the most important thing you can do is choose your surgeon wisely. By researching and ultimately selecting a board-certified surgeon who has a solid reputation, you greatly increase your odds of only being left with small inconspicuously placed scars that heal properly.
It's important that your surgeon ideally have extensive experience performing breast augmentation surgery, and that you share a positive, communicative rapport together. These factors will help ensure that your procedure is well planned out and that the treatment plan takes into account personal considerations such as the dimensions of your body, your goals, and other important factors.
» Finding board-certified plastic surgeons who specialize in breast enhancement procedures is paramount.
A second step you can take to encourage proper scar healing and a positive overall result is to carefully follow your surgeon's instructions both pre- and post-operatively.
There are still more things your surgeon can do to minimize scarring. In an ideal scenario, he or she will place the incisions in a location that is not under tension during the recovery period and beyond. Some degree of tension is inevitable since the implant occupies space within the breast pocket, but how much depends on the implant size and weight.
However, if scars are placed under excessive tension during the healing process they may widen and prompt healing could be delayed as a result. Swelling, too, will put some tension on the implant, but this is temporary. A surgeon who uses the Keller Funnel or the Implant Funnel will be able to make smaller incisions and diminish the amount of tension and stretching, thereby decreasing the risk of bad scarring.
The good news is that the surgeon can help reduce visible scarring by carefully planning the incision placement. The breast implants can be inserted through several different incision locations. The three main incision placements are periareolar (around the areola), axillary (through the armpit), and inframammary incisions (along the breast fold under the breast). A fourth approach called transumbilical, a.k.a. TUBA, involves incisions through the belly button, but this is used less often.
This decision as to which of the incision options is best for your needs will depend on the size of the implants, whether you choose saline or silicone implants, and your surgeon's individual technique and preferences (along with your own, of course).
Whiteman advises that you speak with your plastic surgeon during your consultation to discuss potential scarring associated with each incision technique. Your surgeon will recommend the technique they believe will be best and explain the advantages and disadvantages to you. Ultimately, the decision will be up to you.
How to Make Breast Implant Scars Go Away Faster
According to Dr. Whiteman, the most important thing you can do to help reduce scarring and heal quickly following surgery is to closely follow your plastic surgeon's pre- and post-surgery instructions.
"Don't smoke and limit your alcohol consumption," he says. "Avoid ibuprofen and Aspirin, herbal supplements, and other over-the-counter supplements unless your surgeon has cleared them first. Stay out of the sun, use sunscreen, and apply topical silicone agents as needed. If scars remain red over time, cosmetic laser treatments can help."
Also be sure to use scar cream or gel as well as silicone sheeting, as directed by your surgeon.
Here are a few additional tips:
Arrange for a friend or family member to monitor you for the first 24 hours postoperatively. This person can ensure that you take your medication and help you avoid putting pressure on the stitches by reaching for things and/or potentially overexerting yourself.
Avoid showering until your surgeon gives you the okay to do so, and avoid taking baths for several weeks.
Make sure to consume plenty of fluids and eat healthily. Your surgeon may ask you to limit the amount of salt you consume in order to reduce swelling.
To further reduce swelling your torso should be elevated while sleeping.
You will also need to limit lifting and reaching for items for a couple of weeks.
Avoid vigorous activity for approximately one month following surgery.
You will be able to return to work roughly one week after surgery so long as your job doesn't involve heavy lifting or any moderately vigorous activity.
Ultimately, some amount of scarring is inevitable following any plastic surgery, including breast augmentation surgery. "With all surgeries skin is cut, which naturally leads to scarring," says Whiteman. "The best way patients can minimize scarring and achieve the best long-term results from their breast augmentation is to find the right experienced, board-certified plastic surgeon to perform their surgery and be sure to follow their guidelines closely."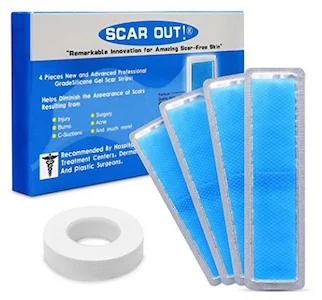 Scar Treatments After Breast Augmentation Surgery: Recommended Products
Breast implant surgery leaves scars that take several months to fade away. Fortunately, there are a number of products that can help minimize their appearance and speed up the healing process.
ScarOut! Silicone Gel Scar Sheets
Check Price
Users report that these transparent gel sheets are more comfortable and adhesive than other popular brands. ScarOut! is perfect for those tricky areas along the breast fold, and comes with zinc oxide tape to help secure the sheets in place.
Cimeosil Scar Gel
Check Price
This gel can be applied anywhere on the body and goes on completely clear — it can even be worn under makeup. Cimeosil's medical-grade silicone must be applied twice a day to reduce the appearance of scars.
Scar Treatment by Embrace
Check Price
Embrace Scar Treatment sheets use medical grade silicone to hydrate and fade scars. It's a good option if you're a low-maintenance type of person, as it only has to be applied every ten days.
Pro-Sil Silicone Stick for Scars
Check Price
If you're looking for an alternative to sheets or gels, this silicone stick is hard to beat in terms of portability and ease-of-use. Pro-Sil Silicone Stick is highly effective at diminishing scars — even those with abnormal shapes that sheets sometimes cannot accommodate.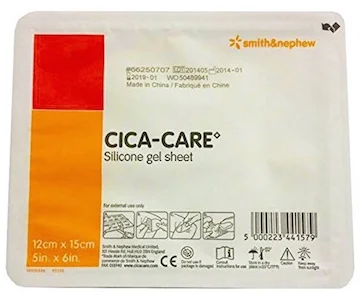 Cica-Care Silicone Gel Sheet
Check Price
While the price of this single gel sheet is a little steep, it's your best bet if you're concerned about hypertrophic scarring. Washable, reusable, and thicker than other scar sheets, Cica-Care is a medical-grade treatment for more prominent scarring.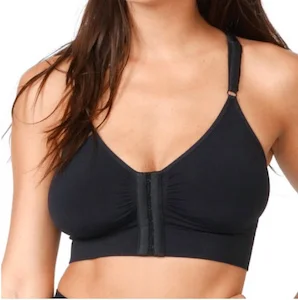 RxBra Post Surgical Front Closure Compression Bra
Check Price
Unlike more bulky medical bras, RxBra allows you recover in style and feel good about how you look immediately following surgery. It comes with padded backing and front clasps, making it easy to get on and off — even when your movements are restricted.
Biodermis Epi-Derm Areola Circles
Check Price
These silicone gel sheets are specifically designed to minimize and fade scarring on the areola. Biodermis' thin design makes the circles cling closely to the body, allowing them to be comfortably worn under clothing. They can also be trimmed to the right diameter.
Fade Away Silicone Gel Sheets
Check Price
Fade Away's scar treatment sheets can be used anywhere on the body. They come in long, 1 inch-wide strands that can easily be cut to precisely cover your scars. Each pack holds a 72 inch (182 cm) roll of silicone sheets, and each sheet can be reused up to seven times.