Pore strips can be an effective way of dealing with blackheads.
They work by removing oil and dead skin cells from the top layer of skin.
Pore strips can damage your skin if they are used incorrectly or if you have particularly sensitive skin.
Pore strips are widely used in many people's regular beauty routine. Cheap, affordable and available just about everywhere, they are a very popular way of removing blackheads and improving overall skin tone.
However, pore strips are not without their issues. The sticky strips can trigger breakouts and irritate sensitive skin, and some people find them ineffective for removing blackheads that lie deep beneath the surface of the skin.
To get the best results with pore strips, it's important to perfect your technique and only use products you can trust. Read on to learn more about how pore strips work and which brands offer the best results.
What are Pore Strips Used for?
Pore strips are primarily used to remove blackheads. Blackheads occur when a hair follicle becomes clogged with dead skin cells and/or sebum, a type of oil that helps lubricate your skin and hair. This produces a small bump known as a comedo. If the skin around the clogged pore can't close over, air gets into the comedo and oxidizes the sebum and dead skin cells, turning the comedo black.
How do Pore Strips Work?
There are dozens of different products on the market, but they all work in more or less the same way. A pore strip contains ingredients that react with water to create an extremely sticky adhesive. As it dries, the strip hardens and attaches firmly to the top layer of skin cells and the oil glands in your pores. When you tear off the pore strip, it removes anything lying near the surface of your skin, whether it be dirt buildup, oil, dead skin cells or blackheads.
Do Pore Strips Work?
If you've ever used a pore strip, chances are you examined the sticky underside to discover an interesting collection of what appears to be dirt, gunk and blackheads. However, you may be surprised to learn that most of this is actually just a mixture of sebum and dead skin cells known as sebaceous filaments.
Which begs the question: do pore strips actually remove blackheads?
The answer is both yes and no. Pore strips, when used correctly, can be effective at removing the superficial portion of a blackhead. They are also great for removing some of the superficial debris that might be clogging up your pores.
However, pore strips cannot treat deep blackheads, nor can they remove deep-down dirt and hardened sebum that lies far beneath the surface of the skin. And while pore strips can temporarily make your skin feel softer and smoother, they do not treat the underlying cause of blackheads.
Treatment Areas
While pore strips are most commonly used around the nose area, they can also be used on the chin and forehead. Ideally, you should look for a product that is made specifically for the area you wish to treat, but most nose strips will work reasonably well wherever you place them. Just remember to follow the instructions carefully to ensure the strip adheres correctly to your skin.
» Learn more about home remedies to remove blackheads from your nose, chin, and back
Best Pore Strips for Your Nose
CalMyotis Nose Pore Strips
Best at: A deep and gentle cleanse
What makes it stand out: No additives
Check price
All natural and deep cleansing, CalMyotis pore strips work to gently smooth the skin and remove impurities. These strips are free of any and all harmful preservatives, dyes, fragrances, and fillers. Their main ingredient is activated carbon, making them a good choice for all skin types. CalMyotis strips may take longer to yield results than other pore strips because of their gentle ingredients, but their specially designed shape and reliability make them worth the wait.
Pros
No preservatives, dyes, fragrances or fillers
Very gentle on the skin
Good for all skin types
Cons
Take longer to work
Not very sticky
Auslka Deep Cleansing Charcoal Pore Strips
Best at: Dealing with tough skin and stubborn blemishes
What makes it stand out: High active charcoal content
Check price
Auslka's pore strips are crafted for tackling persistent acne and oily skin. Using medicinal charcoal, they draw out oil to provide a deep cleanse you can really feel. Unlike other strips, Auslka uses a high active charcoal content, making them effective on stubborn skin. They also remove sebum, dirt, and dead cells, leaving your skin smoother and clearer. Auslka is so confident in their product that they offer a full refund if you're not completely satisfied.
Pros
Good for stubborn acne and oily skin
Extra thick strips
Money back guarantee
Cons
Can only be used on the T-zone
While rare, charcoal residue can linger in pores
Sace Lady Deep Cleansing Nose Pore Strips
Best at: Quick pore cleansing
What makes it stand out: Simple & good for sensitive skin
Check price
If you're looking for a fast, simple way to get clearer pores, then Sace Lady pore strips are for you. These no-frills strips work in just 10 minutes to remove dirt and oil from your pores and get rid of blackheads. Space Lady doesn't sacrifice speed for quality either, these strips are unscented, hypoallergenic, and dermatologist-tested. So even if you have very sensitive skin you can clear your pores easily and without worry.
Pros
Unscented and hypoallergenic
Good for sensitive skin
Inexpensive
Cons
Does not mold to nose shape
Adhesive sometimes comes off strip.
Best Pore Strips for Your Forehead
Biore Deep Cleansing Pore Strips for Nose & Face
Best at: General pore cleansing
What makes it stand out: It's the classic pore strip
Check price
Biore Deep Cleansing Pore Strips come in two varieties: nose and face. Nose strips are designed to match the contour of most noses while face strips are perfect for covering a large area like the forehead. These strips are highly effective at unclogging pores and removing all dirt, oil, and blackheads. They work on all skin types and are hypoallergenic. Visible results are noticeable in only ten minutes. If you're looking for basic yet effective pore strips, these are for you.
Pros
Good for all skin types
Hypoallergenic
Dermatologist-tested and oil-free
Cons
Less adhesive than other brands
Can dry out skin
Anjou Blackhead Remover Pore Strips
Best at: Gently removing impurities
What makes it stand out: It's all natural and cruelty-free
Check price
If you prioritize natural ingredients and gentle skin care, be sure to check out Anjou's pore strips. Like everything from Anjou, they are all natural and cruelty-free, utilizing ingredients like witch hazel and licorice root extract to get rid of blackheads and other impurities. Anjou Blackhead Remover Pore Strips are anti-bacterial, anti-inflammatory, and non-allergenic, making them safe for sensitive skin.
Pros
Uses all natural ingredients
Cruelty-free
Good for sensitive skin
Best Pore Strips for Your Chin
Bioré Deep Cleansing Charcoal Pore Strips
Best at: Removing oil
What makes it stand out: Made of natural charcoal
Check price
For oily skin on your chin, Bioré's Deep Cleansing Charcoal Pore Strips will do the most to give you a deep, visible clean. Using natural charcoal, these strips work like a magnet to trap and remove dirt and oil from your skin. In fact, people who use Bioré's strips see three times less oil after just ten minutes. For a powerful clean of oily and blemish-prone skin, there's nothing better than these charcoal strips.
Pros
Great for oily skin
You can easily see everything they pulls out
Uses charcoal for an extra effective clean
Cons
Can hurt when peeling off
May be too intense for sensitive skin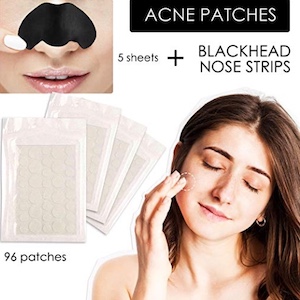 Acne patch Hydrocolloid Bandages
Best at: Whitehead and blackhead removal
What makes it stand out: Can be used as a spot treatment
Check price
This facial care kit is actually a combo of blackhead removing pore strips and acne pimple patches. This unique duo allows you to get the power of pore strips and the convenience of pimple patches all at once. The blackhead removers work great on your chin, or any part of the face, leaving your skin looking noticeably clearer. Unlike pore strips, pimple patches can be used as spot treatment, making them great for stubborn whiteheads. They are comfortable enough to wear to bed and invisible enough to wear out and about.
Pros
Can be used for spot treatment
Good for blackheads and whiteheads
Patches are invisible — can be worn to bed or under makeup
Cons
Designed for zits more than clogged pores
Only comes with five blackhead removers
How to Use Pore Strips
Wash the affected area of skin with warm water and a gentle cleanser.
Wet your skin with water or a damp towel. The skin must be wet for the strip to adhere correctly.
Peel the strip off of its plastic liner and place it on your skin, smooth side down. Press firmly to ensure the peel strip makes good contact with your skin and is as smooth as possible.
Leave the strip on for 10-15 minutes.
Remove strip, pulling from bottom to top.
Wash your skin with warm water and a gentle cleanser to remove any residue.
The Risks of Using Pore Strips
The adhesive properties of pore strips make them great for removing debris from the surface of your skin, but they can also cause damage.
When you remove a pore strip, there is a risk of tearing or injuring your skin, especially if you have naturally thin skin or suffer certain disorders like psoriasis or rosacea. This can leave your skin looking flaky, red and inflamed. Pore strips also sometimes induce breakouts in acne-prone skin.
Further, there is some concern that an overly forceful removal of the strip could break capillaries, which would leave your skin looking red and blotchy. However, most dermatologists agree that pore strips don't produce enough force to damage surface capillaries. Any facial redness or spider veins that you might experience after using a pore strip are usually the result of the strip irritating your skin and stimulating the blood vessels near your nose.
Prevention tips
Exfoliate
Regularly exfoliating helps remove the dead skin cells that clog up pores and lead to blackheads. Exfoliating serums containing alpha or beta hydroxy acids are great for removing buildup without damaging your skin, making them valuable for both blackhead and acne treatment. Remember to avoid over-exfoliating, as this can lead to red, irritated and dry skin.
» Learn more about the risks and benefits of alpha and beta hydroxy acids
Use face masks
Face masks are also very effective at removing impurities from the skin and preventing clogged pores. Plus, they have the added benefit of improving skin tone and diminishing acne blemishes while leaving your skin looking softer, smoother and healthier.
Invest in a salicylic acid face wash
There are a number of over-the-counter pore cleansers on the market that contain salicylic acid. Salicylic acid is a beta hydroxy acid proven to break down sebum and dead skin cells, thereby reducing the risk of blackheads. Start by using your salicylic acid cleanser once a day and gradually ramp it up to twice a day if your skin reacts well.
Use a retinoid
Retinoids are compounds derived from vitamin A and used widely in skin care products. Retinoids help keep blackheads under control due to their ability to increase cell turnover. They also promote collagen production, which keeps the skin firm and reduces some of the signs of aging. Over-the-counter retinoids are less potent than their prescription counterparts and take longer to work.
» Learn more about Retin-A and at home retinol creams that can help keep blackheads under control
Takeaway
Pore strips are strong adhesives that function by removing the top layer of dead skin cells and the superficial portions of blackheads. While they won't actively prevent blackheads, they can remove oil and debris from the surface of the skin and reduce the appearance of pores.
Pore strips can damage the skin and may not be effective if used incorrectly. For best results, always follow the instructions as directed. Do not use pore strips if you have thin, sensitive or acne-prone skin.