Crepey skin is a natural part of aging: as the body decreases its production of elastin and collagen, the skin loses its elasticity.
Other factors can also contribute to the appearance of crepey skin, including sun damage, hormonal changes and weight loss.
There are several professional and at-home treatments that specifically target and correct papery skin.
Choosing which treatment is best for your skin comes down to your skin type, budget, and personal preferences.
The skin is a delicate organ. Sun damage, aging and conditions that hinder collagen production can all contribute to it taking on a thin, crepey feel.
This condition is sometimes called elephant skin because it mimics the crinkly skin of elephants. Although similar to wrinkles, crepey skin tends to occur in larger areas on the face, inner arms, and legs.
Unfortunately, there is no permanent fix for treating crepey skin, but there are steps you can take to reverse or delay the damage. Rethinking your skincare routine by adding a heavier duty moisturizer or retinol can help restore the skin's building blocks, leading to a younger-looking appearance.
Professional treatments will also help to combat crepey skin, but the results are largely considered temporary. The best course of action is to talk to your cosmetic doctor about a treatment that's tailored to your particular skin type.
What is crepey skin?
As we age, our skin produces less collagen and elastin, leading to wrinkles and sagging. Another major contributor to wrinkly skin is excessive sun exposure. That should come as no surprise, since the American Academy of Dermatology (ADA) now attributes as much as 95 percent of skin aging to harmful sun rays. Naturally, the best way to prevent crepey skin is to stay out of the sun and wear sunscreen daily.
Skin dehydration can also cause crepey skin. Older adults are more likely to experience visible signs of aging due to dry skin because the body produces less and less oil as we age.
What's more, a decrease in female hormones — caused by certain medications, menopause and pregnancy, for example — can deprive the skin of essential moisture. A good moisturizer is key to preventing the skin from appearing crepey.
With all of this taken into account, it's clear that the best way to prevent your skin from taking on a less than desirable skin texture is two-fold:
Minimize and correct sun damage
Provide the skin with the moisture and nutrients it needs to stimulate collagen and elastin production
"Everyone likes to look tan, but getting lots of sun reduces the elasticity of skin, which results in the crepe paper look," confirms Dr. Reza Tirgari of Avalon Laser in San Diego, CA. "Integrating moisturizer into the skincare routine is also helpful, especially if the products contain rejuvenating salicylic or glycolic acid."
A crinkly texture isn't a skin death sentence. There are a wide range of treatments available to help improve the skin's elasticity, from over-the-counter skincare products to home remedies and laser procedures.
Professional treatments for crepey skin
Unfortunately, none of the following treatments offer a permanent fix. Most require routine maintenance and multiple treatments for the best results. However, on the plus side, when you combine them with at-home treatments, you may be able to preserve your results for longer.
What about plastic surgery? We won't speak for every doctor, but New York plastic surgeon Dr. George Yang warns against using facelifts or neck lifts to treat crepey skin.
While these procedures can certainty tighten the affected areas by stretching the loose skin and creating a more youthful appearance, the results are temporary. "The first 6 months after face and neck lifts, the neck skin will look and appear younger," says Dr. Yang. "But with additional time the crepiness will return."
Natural treatments for crepey skin
Preventing and treating thin, papery skin comes down to your overall skin health. In some cases, you can restore the skin's natural oils and help reverse age- and sun-related skin damage through skincare products.
These treatments have limitations, though. For example, if your skin is crepey because you've recently lost a lot of weight, you will need to talk to a plastic surgeon about having excess skin removed.
Retinol — Topical creams that contain retinol (vitamin A) or its prescription-strength counterpart tretinoin may help address the look of crepey skin. That's because these compounds work to thicken collagen and elastin, giving the skin a more structured, stretchy feel.
Moisturizers — Wearing a daily moisturizer is essential to warding off wrinkly skin as a whole, especially papery skin. As we've already discussed, skin cells that are deprived of moisture cause skin to appear thin, tired and aged. Using a body lotion with raw shea butter can help address crepey skin on arms and legs. Be wary of moisturizers that contain coconut oil and olive oil though, as they are comedogenic, meaning they might clog your pores.
Water — Another thing you can do to improve the overall texture of your skin is to increase how much water you drink each day. As we've already discusses, a common cause of crepey skin is dehydration. Make sure you drink between eight and 10 glasses of water each day for the best results.
You may have read claims that starting a facial exercise regimen will help improve the appearance of loose, wrinkly or saggy skin. The thinking is that strengthening the muscles in the face — by working the jaw and tongue into various positions — will help smooth the skin for a "natural facelift." However, research has yet to confirm the efficacy of facial exercise.
Best Body Creams for Crepey Skin
Crepey skin can be caused by a number of factors, which is why it's always best to talk to a dermatologist to figure out the best course of action for you. That said, there are a number of lotions for mildly crepey skin that you can explore before seeking the advice of a dermatologist. It's good to keep in mind that overall good skin care skincare practices can also improve the look of crepey skin.
Replenix All-trans-Retinol Smoothing Body Lotion
Featuring the highest level of all-trans-retinol available in an over-the-counter product, Replenix Smoothing Body Lotion diminishes the look of aging and crepey skin by fortifying the skin's moisture barrier and encouraging cell renewal. It also uses PWR3+ antioxidant complex to protect skin from further damage from free radicals. This lotion is also deeply moisturizing and is an overall great option for dealing with aging skin on the body.
Check price
Pros
Encourages cell renewal
Free of oil, parabens, and fragrances
Can also reduce the look of cellulite
Cons
Package is small and relatively expensive
Some have experienced discomfort following application

Alpha Skin Care Renewal Body Lotion
With 12% glycolic acid and a pH of 4, this lotion from Alpha Skin Care is specially formulated to reduce the appearance of wrinkles, fine lines, and crepey skin. Glycolic acid deeply penetrates the skin and exfoliates it which stimulate collagen production. After consistent use, you'll be able to notice brighter, healthier, younger-looking skin.
Check price
Pros
Uses glycolic AHA to encourage collagen production
Fragrance-free and paraben-free
Cons
Some have noticed an oily feel to skin after application
The product is thick, making it difficult to get out of the bottle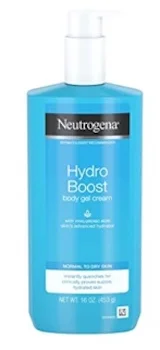 Neutrogena Hydro Boost Body Gel Cream
A powerful moisturizer infused with hyaluronic acid, Neutrogena Hydro Boost quenches dry skin to keep it looking as young as possible and prevent further aging damage. This non-greasy gel cream has an ultra-light formula that can hold 1000x its weight in water, meaning that it will replenish your skin's natural moisture without feeling sticky or clogging your pores. Hydro Boost is strong enough to smooth and hydrate even very thin and wrinkled skin.
Check price
Pros
Uses HA to moisturize skin
Fast absorbing
Paraben-free and non-greasy
Cons
While some users enjoy the fragrance, others find the smell too strong
Which one is best?
Choosing which treatment is best for you really comes down to your personal needs and budget. In extreme cases, professional treatments are recommended because they provide more measurable and immediate results.
On the other hand, these treatments can ring up for thousands of dollars — the average cost of laser resurfacing, for example, is $2,330 — and come with more demanding recovery periods.
Using over-the-counter or prescription topical creams may provide equally measurable results to professional treatments, only they could take longer. The best crepey skin cream for your skin will depend on a number of factors including how dry and sensitive your skin is. If you choose to not seek the advice of a dermatologist, it may be necessary to test out a few creams before deciding on one.
Over-the-counter or prescription topical creams are ideal for people who have noticed mild skin aging and want to take steps to prevent the condition from worsening. Most professionals recommend using moisturizers and retinol alongside professional treatments to better enhance and preserve results.