Ultherapy has generated quite a bit of buzz over the past few years, but some users are reporting alarming side effects. 
Ultherapy is a non-invasive skin tightening procedure that uses ultrasound to stimulate collagen production.
The procedure, featured on The Dr. Oz Show in 2012, has been advertised as a non-surgical lift for the neck and lower face. It has a Hollywood cult following, from Courtney Cox to Kim Kardashian — who underwent Ultherapy last winter for a neck lift.
Does it work? Absolutely. The before and after pictures are impressive, with some private clinics claiming that the procedure can actually make you look 10 years younger.
However, not everyone is satisfied with their results. On forums and in chat groups, patients describe the excruciating pain they experienced during the procedure. Some are even saying that Ultherapy made their faces "melt away."
Terrifying much? We asked the experts to tell us what they think of these claims.
Ultherapy: How It Works
Ultherapy is an FDA-cleared, non-invasive procedure that triggers the body's own regenerative response to tighten the brows, neck, and lower face.
Through a focused ultrasound that boosts collagen production — also known as neocollagenesis — Ultherapy can be used to reduce the appearance of wrinkles on the chest, to tighten the jowls, and even to treat fine lines around the eyes, with absolutely no downtime.
According to Ulthera, the company behind Ultherapy, the procedure is unlike lasers, radiofrequency, surgery and other technologies, since it "bypasses the surface of the skin to deliver the right amount of ultrasound energy at the right depths and the right temperature. This energy triggers a natural response under the skin, jumpstarting the regenerative process that produces fresh, new collagen."
The procedure lasts one hour and a half on average, depending on how many breaks are needed. Results can be seen within 12 weeks, and the effects last up to two years.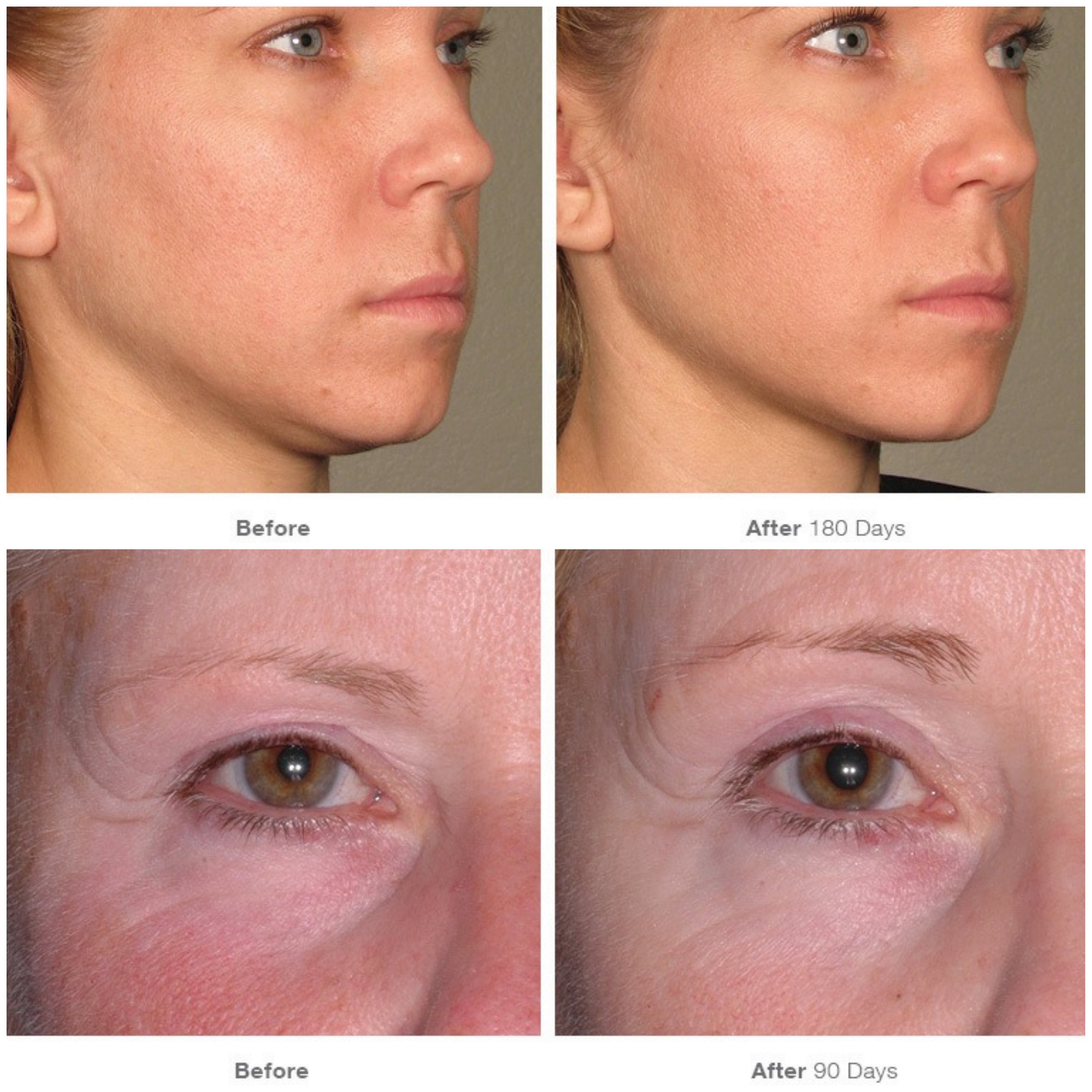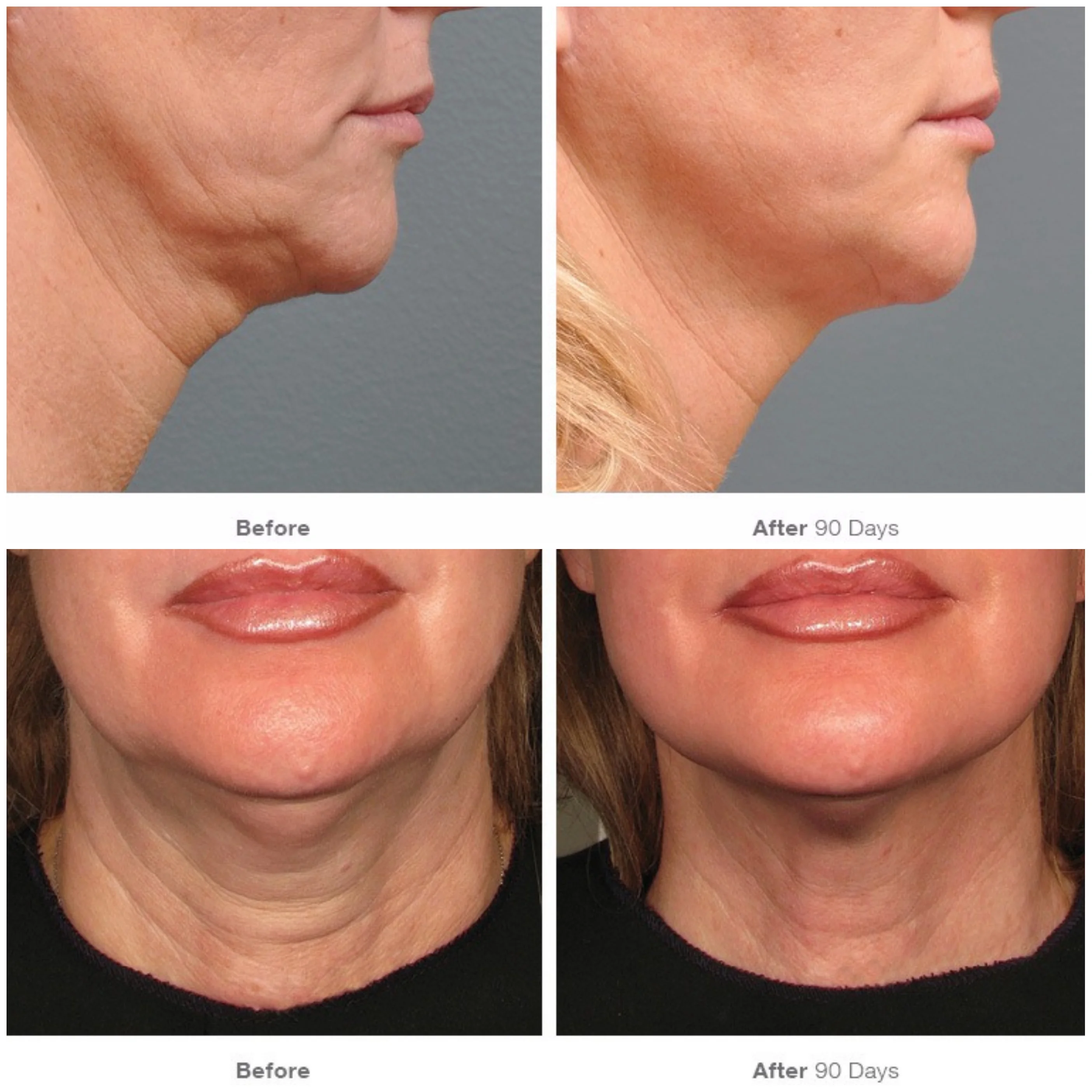 Ultherapy vs Thermage
Thermage and Ultherapy share some similarities: both stimulate collagen production and are within the same price range. Technically speaking, the main difference between the two is that Ultherapy uses ultrasound technology, whereas Thermage uses radiofrequency.
According to Amanda Kuschak, head of medical aesthetics at Cosmedica Clinic in Montreal, Canada, each procedure has its advantages.
"I won't use Ultherapy to treat someone who has very thin skin with no fat content whatsoever, as Thermage tends to work a little better in those cases," says Kuschak. "However, Ultherapy is great for the neck and décolleté, which you can't do with radiofrequency devices. The ideal candidate is between the age of 35 and 60, with mild to moderate skin laxity."
Dr. Arie Benchetrit is a leading Canadian plastic surgeon, a member of the American Society of Aesthetic Plastic Surgery (ASAPS), and the former President of the Canadian Laser Aesthetic Surgery Society. He is considered an authority when it comes to non-invasive procedure such as Ultherapy, which he endorses as an effective treatment for many common skin concerns.
In Benchetrit's opinion, Ultherapy is the superior technology.
"I think Ulthera is a great device," says Benchetrit. "It's one of the only machines that allows you to see exactly where you are, and what you're treating," he says. "It provides feedback via ultrasound of the tissue, so you know when you are at the right place. Other treatments such as Thermage leave you guessing where the energy is actually going."
Terri Ross, director at Lasky Aesthetics and Laser Center in Beverly Hills, offers a more nuanced appreciation of the non-invasive treatments her practice provides.
"Some energies and technologies will work better on certain individuals," says Ross. "Thermage can be very effective for some patients, and not for others. The same goes for Ultherapy, Exilis, Tripolar, and other skin tightening modalities."
For this reason, Ross often recommends a combination of several treatments for optimal results.
"Ultherapy can be performed along with superficial lasers such as Fraxel and Clear + Brilliant," she says. "Combining it with microneedling, IPL and peels also works great and, I feel, elicits better results." When used with fillers — something medical practitioners call the 'Belotero-Ultherapy Combo' — an optimal lifting effect can be attained as the two treatments "work in synergy to lift the jawline, neck, and sagging skin," adds Ross.
Ultherapy Side Effects: Can It Really Melt Your Face Away?
In Benchetrit's opinion, the claims that Ultherapy is causing serious side effects and complications should be taken with a grain of salt.
"The results have much more to do with the practitioner who is operating the device than the device itself," he says. "Malfunctions are very rare. These devices are safe — they're certified by Health Canada and the FDA. In such cases, maybe the skin wasn't evaluated properly."
Ross agrees that when in the hands of a skilled practitioner, there is nothing to worry about.
"It's a shame that Ultherapy is getting a bad rap for 'melting away fat.' Before going in for a treatment, you want to make sure the practitioner is very familiar with Ultherapy's DeepSEE Ultrasound Imaging. Evaluating the patient's face, neck and chest tissue by sight and with the ultrasound itself tells us the exact depth at which the energy should be delivered," Ross explains.
"Some of the hand pieces deliver energy 4.5 mm deep, and others are more superficial," says Ross. "For example, for an older, thinner-skinned patient, the deeper hand pieces would reach the subcutaneous fat layer, which may not be recommendable. On the other hand, some people have excess adipose tissue in their jowls, neck, or submentum — in such cases, treating them with a deeper hand piece may be fine."
That being said, there have been reports of Ultherapy dissolving dermal fillers. Speak to your practitioner about this before undergoing Ultherapy if you've received filler injections in the last year.
You deserve this! Let's make magic on your face
Tightening your skin with Ultherapy stimulates your collagen with ultrasound waves. Make yourself younger with Ultherapy. If you are looking for alternatives, here is a list of products that will meet your needs. 

MLAY RF Radio Frequency Lifting for Face and Body
MLAY Radio Frequency skin tightening machine uses the latest Bipolar RF technology. Enables safety with energy adjustments depending on the skin temperature. Get painless, anti-aging, and wrinkle treatment with MLAY Radio Frequency skin tightening machines. Stimulates the collagen and elastin production with RF waves resulting in tighter, smoother, and toned youthful skin. Enjoy the results that last longer. Always clean the probe after every usage for longer life. 

Nair Hair Remover Moisturizing Face Cream
Nair Hair Remover Moisturizing Face Cream is the solution for hair removal. Enables smooth and radiant skin that lasts longer. Quick, painless, and easy to use. Hair remover moisturizing face cream is recommended highly by dermatologists. 

Kiehl's Since 1851 Ultra Facial Cream
Kiehl's ultra facial cream is fast absorbent with a good moisturizer. Support the skin and moisturize the skin. Ultra facial cream is applicable for all skin types in all climates.

Cosmo Skin Naturals Facial Massage cream
Cosmo Skin Naturals Facial Massage cream will keep your skin nourished, hydrated and gives you a radiant complexion. Facial massage cream formulated to improve the texture of your skin. Massage on the face in a circular motion, while avoiding the eye area.

Andrea Gentle Cream Bleach for Unwanted Facial Hair
The best solution for facial hair bleaching. Mess-free, the cream is formulated and designed to remove unwanted facial hair. This cream works for all skin types and is less expensive than other products in the market.
Is Ultherapy Painful?
In one word, yes. However, to say that the pain is horrendous couldn't be further from the truth.
If you go on YouTube, you'll find plenty of videos that show TV hosts and celebrities trying the device without any numbing cream, and for whom the treatment seems quite tolerable.
"The beauty of Ultherapy is that it's tuneable," says Benchetrit. "We won't use the same setting on everybody, and rely on the patient's feedback — if it hurts too much then we dial it down."
There may be some redness and mild swelling immediately following the treatment, but generally no bruising. Your jaw will be a tad sensitive for about a week or two after the treatment.
Although some doctors prescribe Percocet, Valium, or Vicodin, and then inflammatory meds for a week after the procedure to keep the swelling down, many patients ditch the meds and only opt for a numbing cream. For others, a stress ball and over the counter anti-inflammatory drugs, such as Aspirin, are all it takes.
During 60% of the treatment itself, patients experience only very little to moderate discomfort. At its worst, the pain is likened to a bad toothache, and this only occurs whenever the device is placed directly over the jawbone. The bouts of pain last for approximately four seconds at a time. Some patients also compare it to menstrual cramps or a bad headache.
Three different transducer depths can be used during a treatment so the energy can be focused differently.
Kushak explains: "Typically we begin treating the patient's skin with an ultrasound wand at a depth of 4.5mm, which is just above the muscle, and then we do a second pass for best results."
"There is no such thing as painless skin tightening," she concludes. "You have to feel that it's happening."
Ultherapy vs Plastic Surgery
"Some patients want something done, but they don't want surgery. I was a very early adopter of lasers and injections for that reason," says Benchetrit.
Choosing between Ultherapy and plastic surgery depends on the patient's condition and how they feel about going under the knife.
Cost can also be a determining factor. For instance, according to 2016 statistics from the American Society of Plastic Surgeons (ASPS), the average cost of a brow lift is $3,400, while a full facelift can go for $15,000 or more.
In comparison, Ultherapy is much more affordable. At Benchetrit's practice, one session retails between $1,200 CAD (roughly $900 USD) for the chest or upper neck, and $3,500 CAD (roughly $2,700 USD) for the full face and upper neck treatment.
That being said, the Montreal plastic surgeon makes one thing clear: non-invasive treatments such as Ultherapy – no matter how technologically advanced – will never replace surgery.
Dr. Kirk Brandow, a leading board-certified plastic surgeon in Philadelphia and New Jersey, agrees that surgery is a better option in the long run. "Patients would be better off pursuing surgical treatments such as a facelift, brow lift, eyelid lift, or neck lift," he says. Even if they cost more money upfront, surgical procedures are often more effective and provide longer-lasting results.