Do you suffer from redness, flushing, a persistent rash or visible blood vessels on your face? It could be rosacea.
Pronounced "roh-ZAY-sha," the condition affects more than 16 million Americans, generally beginning after the age of 30 and worsening over time. Because rosacea affects the face, it isn't exactly pretty. As a result, it can have a very strong psychological, social and occupational impact on those who suffer from it.
According to the National Rosacea Society:
90% of rosacea patients have lowered self-esteem and self-confidence.

41% avoid public contact altogether.

51% have missed work at some point because of it.
We turned to a team of leading dermatologists and cosmetic surgeons to learn more about rosacea and discover the most effective treatment options available.
The Causes and Symptoms of Rosacea
Dermatologists agree that many skin conditions are a manifestation of some sort of inflammation. According to cosmetic laser surgeon Dr. Warren B. Seiler III, "rosacea is caused by an overactive immune response to external stimuli." This stimulus provokes chronic inflammation and symptoms such as acne, dilated blood vessels, flushing, redness, and changes to the texture of the skin.
"It's important to note that a lot of patients are misdiagnosed," says Dr. Seiler. "Many just have a bit of redness, sun damage or skin sensitivity but do not actually have rosacea. There is no rosacea test, it's a clinical diagnosis."
If you have persistent or worsening skin issues, you need to consult with an experienced dermatologist or cosmetic doctor to determine if you do in fact have rosacea. Several different subtypes of the condition exist, each presenting different symptoms:
Erythematotelangiectatic – flushing and redness, which can sometimes include spider veins.
Papulopustular – ongoing redness with rash or pimples.
Phymatous – thickening of the skin, irregular skin surface or nodules and enlargements that can occur on the nose, chin, forehead, cheeks or ears.
Ocular – irritated eyes, blurred vision, spider veins in the eyes, puffy eyes.
Granulomatous – a non inflammatory type of rosacea where the skin has hard bumps, pimples or nodules.
Rosacea Treatment Options
Because of rosacea's different degrees of severity and various symptoms, treatments must be customized to fit each individual's needs and concerns. "Understanding the causes of rosacea helps us determine how and why the various treatment options work," says dermatologist Dr. Stefani T. Kappel. "Treatment options include a wide range of creams, gels, pills, lasers and light-based devices."
Topical Creams and Oral Medication
In most cases, a multifaceted approach produces the best results. Topical treatments such as azelaic acid, glycolic acid, metronidazole, ivermectin and brimonidine can improve various symptoms in three to six weeks, though in some people these may cause mild itching, burning or irritation.
"Anti parasitic creams have gotten a lot of attention lately, as some forms of rosacea are thought to be triggered by a parasite that lives in the skin called Demodex. However, this is controversial," says Dr. Kappel.
In terms of oral medications, low dose, time-released doxycycline or minocycline may also be prescribed. Although doxycycline has fewer side effects, both these antibiotics can cause diarrhoea and nausea.
Intense Pulsed Light
Dr. Seiler suggests that while oral and topical treatments may be used, they only address the symptoms, not the root cause. In his opinion, the most effective treatment is intense pulsed light therapy.
IPL uses various pulsed-light filters and multiple wavelengths to target the different types of blood vessels, reducing the size and quantity of blood vessels in the skin. Another advantage of IPL is that it stimulates collagen and produces smoother, healthier-looking skin.
"IPL technology is unmatched with respect to improving the appearance of extreme redness caused by rosacea, with minimal downtime," says Dr. Seiler.
IPL technology is unmatched with respect to improving the appearance of extreme redness caused by rosacea, with minimal downtime.

Dr. Warren Seiler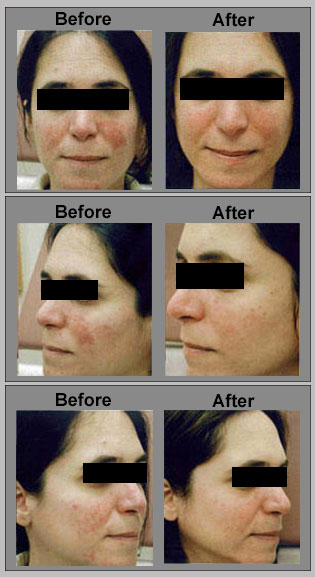 Dermatologist Dr. Bruce Katz agrees: "Both IPL and lasers, specifically pulsed dye lasers (PDL), can provide long-term relief for rosacea and don't require a daily regimen of applying creams or taking pills."
Patients may experience mild redness which generally only lasts one to two days post-treatment. Additionally, some patients may experience some swelling and pigment shedding that can last a few days to a week.
When considering IPL, also keep in mind that "multiple treatments may be needed to achieve complete clearance of the vessels," informs Dr. Kappel. "Maintenance may also be needed every 1-2 years because new vessels will continue to form. Without laser or IPL, these vessels will continue to grow and accumulate over time, so staying proactive to keep them clear is recommended for the best outcome."
Laser Treatments
Some dermatologists prefer laser therapy to address the vascular component of rosacea. "There are several lasers that treat blood vessels," says Dr. Kappel. "These devices have a wavelength that specifically targets the vessels without harming the surrounding tissue. This is called selective photothermolysis."
Dr. Katz adds, "laser treatment is popular for rosacea patients because it precisely targets the inflamed blood cells that cause flushing and red skin and then destroys these problematic cells. As a result, the reduction in inflammation helps clear the skin."
With laser you will require anywhere from 1-3 treatments, and may need maintenance sessions every 1-2 years.
Some discomfort is to be expected, however. "Laser can be very painful and requires a lot of downtime due to skin bruising and purpura (discoloration of the skin)," says Dr. Seiler. "IPL's results are as good or even better without the extreme pain or lengthy recovery."
Common Rosacea Triggers
Keeping a journal can help you identify what specifically triggers your rosacea flare ups.
Environmental Factors
Sun exposure

Emotional stress

Hot weather

Cold weather

Wind

Vigorous exercise
Food and Drink
Alcohol

Spicy foods

Coffee

Dairy products

Hot drinks
"Diet has a significant influence on the skin," says dermatologist and dermatologic surgeon Dr. Ariel Ostad. "A high fat, high sugar diet increases systemic inflammation and results in an increase in a hormone called cortisol."
According to Dr. Ostad, cortisol is responsible for destroying collagen and elastin in the skin, increasing oil gland production and acts as a vasodilator that heats up the skin and increases the severity of rosacea flares ups.
Diets that are rich in dairy products and carbohydrates – particularly sugar – are linked to acne, rosacea and dermatitis. "Eating carbohydrates that are low-glycemic helps prevent spikes in blood sugar and control inflammation," recommends Dr. Ostad.
Eating carbohydrates that are low-glycemic helps prevent spikes in blood sugar and control inflammation.

Dr. Ariel Ostad
Makeup
Be aware that anything applied to the skin can be a rosacea trigger. Around 27% of people with rosacea react to certain cosmetics. "I recommend that patients use a medical-grade makeup, like Colorescience®, that has the purest ingredients and is gentler than over-the-counter products," says Dr. Seiler.
Any makeup chosen should be "non-comedogenic (non-pore clogging) and washed off every night-no matter how tired you are at the end of the day," advises Dr. Kappel.
A great additional tip Dr. Kappel provides is to avoid bronzers, concealer and foundations with orange or red tones. Instead, choose a concealer with a hint of green as these help hide the redness.
Rosacea Skin Care Routine
If you intend to be outside, always wear sunscreen. "Patients with rosacea need to be diligent about protecting their skin from the sun," says Dr. Katz, who also recommends avoiding makeup and skincare products that contain fragrances, as fragrances are a leading skin irritant.
Dr. Seiler recommends a medical-grade sunscreen that contains zinc, as these "will go on smoothly and provide the best all-around protection, whereas many over-the-counter sunscreens are thick, nasty and greasy, and are uncomfortable to wear on exposed areas, let alone on the entire body."
A gentle daily skincare regimen is also recommended – using a good cleanser, an exfoliating scrub (being careful not to scrub too vigorously as this will cause skin irritation), followed with a toner and moisturiser.
"I also recommend a topical antioxidant, such as the Redness Neutralizer from SkinCeuticals," says Dr. Seiler.
Just remember, while all of these treatment options are effective for rosacea, these are general recommendations. Individuals with rosacea should consult with their doctor, as there is no one-size-fits-all approach.