Whether we like it or not, unsightly sagging skin beneath the chin is one of many unfortunate byproducts of aging.
For many of us, developing a "turkey neck" is an especially frustrating experience because it's very difficult — if not downright impossible — to lose through diet or exercise. In extreme cases, all that sagging neck skin can add years to a person's appearance.
It used to be that the only option to tighten sagging neck skin was to undergo plastic surgery. In recent years, dedicated research and new technologies have created numerous opportunities to deliver more refined, youthful necks and jawlines without going under the knife.
Before deciding on any given procedure, patients should carefully consider all their options and weigh the pros and cons of each, including important factors such as cost, recovery time, and how the procedure is performed.
To help you make the most informed decision, we've outlined a few of the more popular treatments that patients have been gravitating towards lately. These include some of the traditional surgical options and a slew of newer, less invasive procedures.
Lower rhytidectomy surgery
A lower rhytidectomy, or neck lift, is a surgical procedure designed to reduce jowls or "turkey wattle," that excess loose skin in the jawline that does so much to add years to a person's appearance.
Many patients aren't necessarily interested in going forward with a full facelift, but still want to see improvement in their jawline to make them look as young as they feel. For these people a lower rhytidectomy might be the answer.
Techniques
A lower rhytidectomy is an outpatient, surgical procedure performed under general anesthesia. Over the course of the surgery, which lasts two to three hours and typically takes place in a physician's office, incisions are made around the ear lobe and behind the ear to the lower scalp. Fat is then either sculpted or redistributed from the jowls while the tissue underlying the neck skin is repositioned.
Most of the time the physician will also tighten the platysma muscle, which extends from the collarbone to the angle of the jaw. Skin is then redraped over the uplifted contours while excess skin is cut away and removed.
At the end of the procedure, the surgeon inserts drainage tubes which are usually removed the following day.
Recovery and results
For the vast majority of patients the recovery time from a lower rhytidectomy is about two weeks, though many patients report feeling fine a couple of days after the surgery. Take note that there will always be some swelling, bruising, and minor discomfort afterward, however, within four or five days most patients feel well enough to simply cover the affected area with makeup and return to their light-duty jobs.
People who are good candidates for this procedure are non-smokers in good health. While the results are permanent – ten years later you'll still look better than you would if you hadn't had a lower rhytidectomy – the procedure obviously doesn't stop the aging process.
Cost
The average cost of a lower rhytidectomy is $7,000, but as with all cosmetic surgery, prices vary from practitioner to practitioner and region to region. In other words, you will probably pay quite a bit more for a rhytidectomy performed by veteran cosmetic surgeon in Beverly Hills than you would for the same procedure performed by an inexperience cosmetic surgeon in a rural area.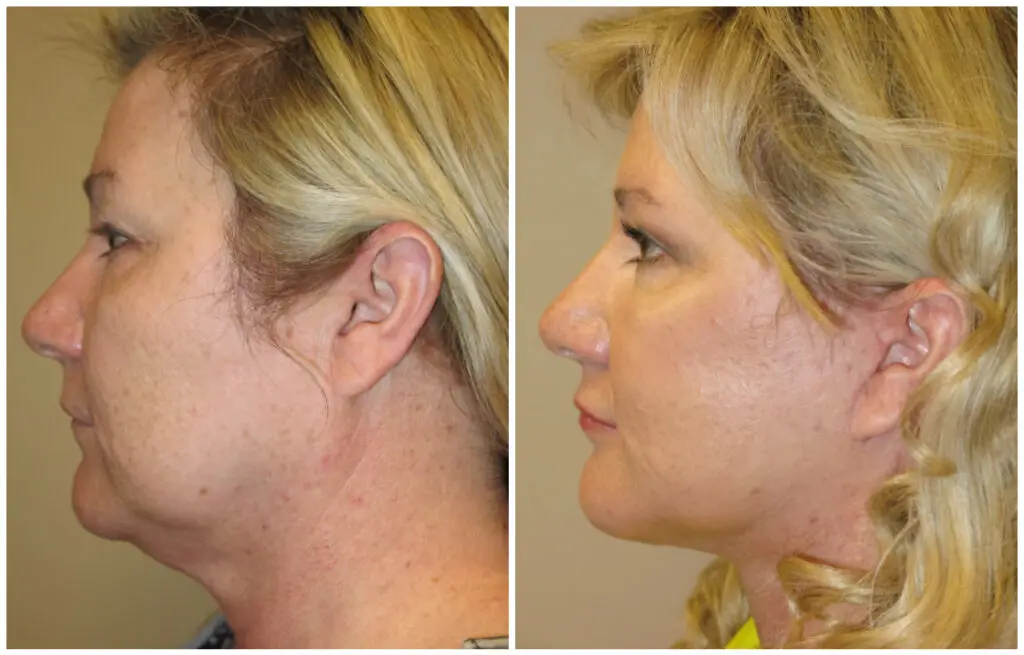 Non-surgical alternatives
"Although non-surgical treatments for neck laxity are very popular, significant tightening of neck bands, skin laxity, or neck wrinkles is very hard to achieve non-surgically," says Dr. Scott Thompson a Layton, UT facial plastic and reconstructive surgeon.
"Most of these therapies are quite expensive, and in most cases not worth the high price that is often charged. Surgical tightening of the neck, while generally requiring more recovery time and expense, is much more effective at achieving long-term and significant neck improvements. Whenever evaluating any treatment, the primary question that should be asked is: 'does it work?' If the answer is no, factors such as down time and cost become irrelevant," says Thompson.
San Diego-based facial plastic surgeon Dr. Victor Chung concurs, adding that "there are many practitioners who only offer non-surgical treatments, as they are not surgically trained. When compared to surgery, these options cannot produce the degree of improvement or the duration of result." Nevertheless, based on his experience "patients are generally satisfied with the level of improvement from nonsurgical procedures."
Bearing those words in mind, here are three of the most popular and effective non-invasive procedures for treating excess skin and fat under the chin.
Laser skin tightening
People who are seeking to turn back the clock without going under the knife might want to consider laser treatments, which are minimally-invasive, non-surgical treatments that immediately begin to stimulate collagen production. Collagen, as you may already know, reduces saggy skin and fills in lines and wrinkles.
With laser therapy, a practitioner will apply a topical anesthetic cream to the area being treated, while the patient will be required to wear protective eye wear. The practitioner will then use a hand-held device to deliver brief pulses of laser energy directly to the skin. Typically, the practitioner will go over the area in question at least three times. The entire procedure rarely takes more than 30 minutes to complete.
The advantage to laser treatments is that they're fast and painless. The results are also nearly immediate. The problem is that these same results aren't permanent, although they will last for up to six months depending on the type of laser the physician uses.
There are several types of lasers on the market, and the cost often varies depending on the type of laser the physician uses for the treatment. While not a permanent fix, nothing really is, and going the laser route is a significantly cheaper option than surgery.
To be considered a good candidate for laser treatments, being in good health is the number one requirement. Lasers also have a track record of strengthening weak jawlines and reducing the sagging skin under the neck.
Kybella
While Kybella has been around for awhile, the Food and Drug Administration (FDA) only very recently approved this prescription medication, that destroys fat cells, to eliminate or reduce the double chin that plagues so many of us older Americans.
At each session, which lasts about 15 minutes, patients receive an average of 12-20 injections of the drug, with some requiring as many as 50 injections per session. Most people will require at least two sessions, scheduled one month apart, although others could require up to six sessions to see maximum results.
"Kybella has been shown to produce excellent results in the young patient with good skin who has an isolated subcutaneous fat pad under the chin," says Chung. "As you get older the neck fat collects in a layer below the muscles, thus becoming inaccessible to Kybella injections." In such cases, multiple injection sessions with many needle pokes each are required.
On the up side, there are no major side effects with Kybella, although patients may experience some swelling, bruising, and general irritation around the injection sites. As with any cosmetic procedure, patients should schedule a consultation with a physician to determine if they are a good candidate for this treatment.
Although some doctors may run Kybella specials every now and again, patients can expect a single session to cost them about $1,500 in most regions of the United States. The results are permanent, although patients will obviously continue to age at their normal rate.
Something worth noting about Kybella is that it's the first, and currently only, FDA-approved drug to attack neck fat. That said, patients shouldn't get their hopes up about using Kybella as a poor man's liposuction to help flush fat from other areas of the body, as it only works on small areas.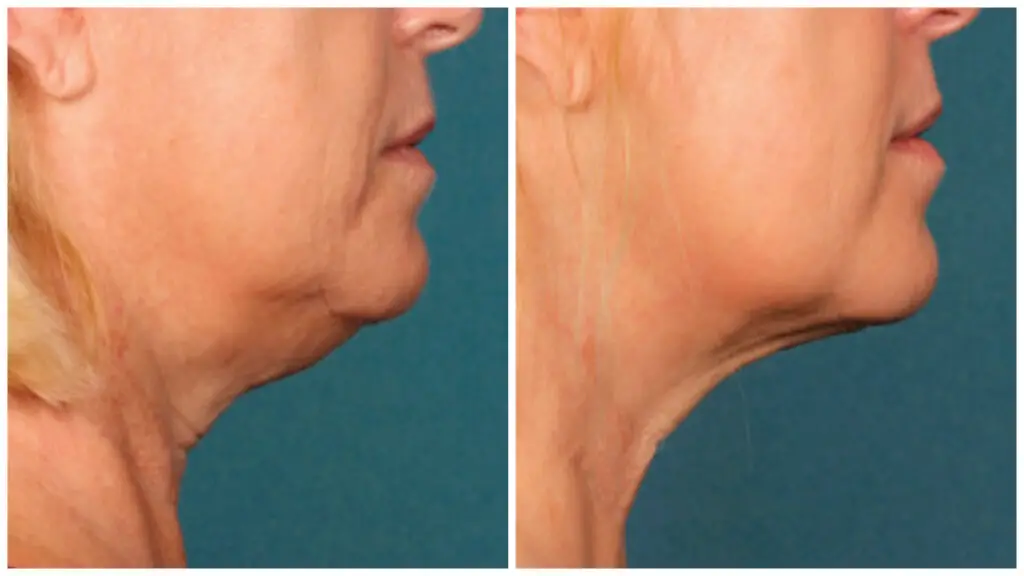 Ultherapy
Although relatively new, Ultherapy is the only FDA-approved non-invasive treatment to actually lift skin. Practitioners use ultrasound imaging, enabling them to see the layers of tissue targeted during the treatment.
The procedure uses sound energy – ultrasound – which is a different process than lasers that use light energy. Ultrasound stimulates collagen production, which in turn significantly lifts the tissue under the neck. No fillers are required with Ultherapy either, and after the procedure is completed the body utilizes its own natural collagen-building process.
The Ultherapy procedure takes approximately 60-90 minutes to complete and there is no down time required. Patients who choose this method of neck lift will need to be patient, though. Even if some results are immediate, the full results only become evident two to three months after the initial procedure – although most patients only require one treatment. Each person's individual aging process is the primary determinant with respect to how long the results last.
Ultherapy targets areas deep beneath the skin at the ideal temperature for collagen regeneration. The optimal candidate for this procedure is an individual who is experiencing mild to moderate skin laxity. Again, the price of Ultherapy varies depending on geography, but as a ballpark figure you can expect to pay anywhere from $2,500 to $5,000 for the treatment.
Fighting aging
Aging can be difficult on people for all sorts of reasons. If one of them is dissatisfaction with the extra years a sagging jowl has added to your appearance, any one of the procedures described here will be of help to you.
As with any medical procedure, of course, determining what will be best for you personally is a decision best arrived at with your board-certified doctor.