Age-defying skin treatments, extravagant makeovers, and a slew of celebrity appearances – Chicago's trendy, urban-chic West Loop area became home to some of the most well-known artists in the beauty industry last month during The 2016 Makeup Show's weekend-long event. 
The event was mc'ed by superstar make up artist James Vincent, whose clients include Marilyn Manson, Amy Winehouse and Barack Obama. "In a world filled with glass ceilings, we celebrate talent through cultural and gender diversity in our industry," said Vincent, earning applause from the beauty experts who had packed into the shabby chic warehouse space.
"It's great to celebrate unconventional beauty together," echoed celebrity tattoo artist Kat Von D in her closing speech. On a more controversial note, she also took a jab at cosmetic companies that test their products on animals: "L'Oreal is a monster for injecting bunnies eyeballs for the sake of vanity to test a lipstick. It's important to be cruelty free." Von D's own line of cosmetics, which is produced by Sephora, has not been tested on animals and does not contain any animal products or by-products.
Popular make up brands like NARS, MAC, Pinnacle, Make Up Forever, Kevyn Aucoin, Glamorous Chicks Cosmetics, and Grande Lips focused on future industry cosmetic styles and solutions, while skin care innovators like Demaflash, TwinMedix, Smashbox, Dermaflage and Mario Badescu demonstrated the importance of healthy skin as a natural beauty foundation.
"Skin is really important to us because we are the largest photography studio on the West Coast. Great skin helps with a great image," said Smashbox's Laura Jane Schierhorn. "High definition photography and video show intricate texture, so the better the skin, the less post-production work is required."
Dermaflage's twelve-shade palate of adhesive plastic film mimics the appearance of skin, helping hide flaws for people with skin cancer, scars, deep wrinkles, chicken pox marks and even gauge earring holes. This innovative scar makeup was developed through a collaboration between top Hollywood special effects makeup artists and dermatologists.
Mario Badescu, a New-York based chemist and esthetician, has been in the industry since 1967. His fabulous skin care products have grown his business from a 2 to 36-room spa, booking some 200 facials every day. Celebrities such as Martha Stewart and Naomi Cambell are regulars at his salon. According to Public Relations Officer Nicole Darmanin, even the Kardashians are fans: "Kylie Jenner's favorite product is Badescu's Facial Spray with Aloe & Rose Water," she says.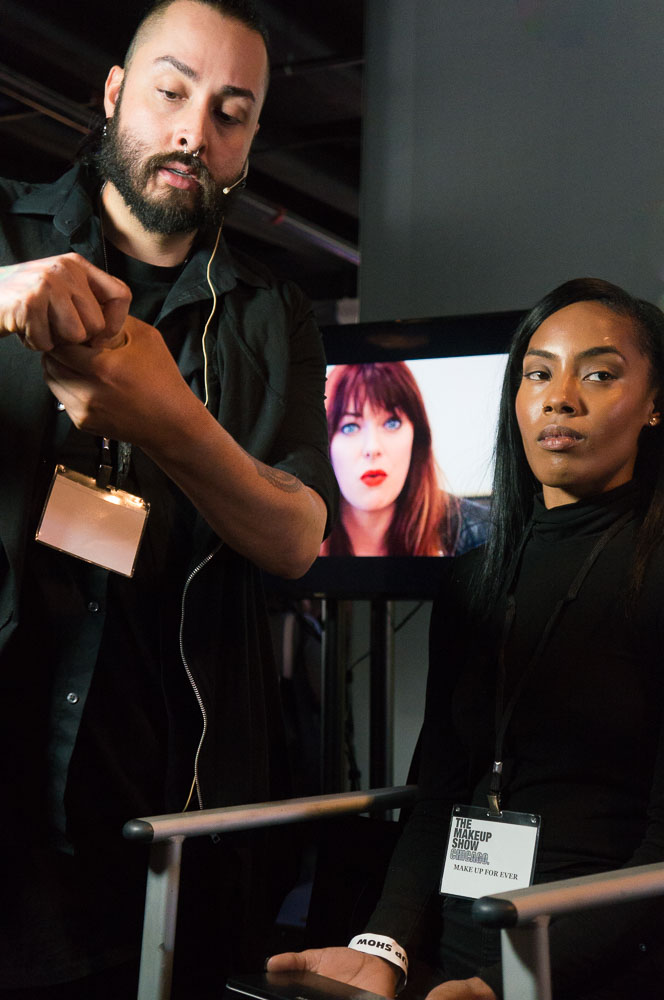 Chicago-based Dermaflash recently launched their home exfoliation device, which removes peach fuzz, gently exfoliates the skin and tightens pores. Smaller pores means less makeup is required, which is one of the reasons why the gadget is so popular among beauty experts.
---
Cover photo: Makeup Show's James Vincent and Kat Von D. All photo credits Michele McManmon for Zwivel.