Azelaic acid is an organic substance that can be used to treat rosacea, acne, and hyperpigmentation.
It is usually only available by prescription, but lower concentrations can also be found in over-the-counter products.
Most people see results within about five weeks, with little to no adverse side effects.
Despite its proven benefits, azelaic acid does not get the recognition it deserves. In fact, it is barely known — unlike some heavily marketed skincare ingredients — outside of select dermatology circles.
Read on to gain more insight into what azelaic acid actually is, how it works, and why an azelaic acid-based product deserves a spot in your daily skincare routine.
What is azelaic acid?
Azelaic acid is a white, powdery organic compound that can be found in a variety of grains. It is used in creams, gels, and foams to treat a wide range of common skin conditions.
"Azelaic acid is an organic substance that can be found in wheat, rye, and barley," explains Dr. Robert Young, a board-certified plastic surgeon based in San Antonio, TX.
In the past, azelaic acid topicals were only available by prescription under such brand names as Finacea and Azelex, which contain azelaic acid in concentrations of 15–20%.
Over-the-counter options can now be found and are gaining in popularity, though these products tend to be much less concentrated (generally between 4% and 10%).
What is it used for?
"Because it helps decrease inflammation in the skin, azelaic acid is commonly used to treat rosacea," says Dr. Young. "It also kills acne-causing bacteria and improves skin tone by regulating the hyperactive melanocytes that cause brown spots."
Acne
A number of studies, including this investigation from Leeds General Infirmary, Yorkshire, England, have found that azelaic acid is an effective form of acne treatment.
Azelaic acid is known to be a powerful antibacterial agent, which helps prevent the growth and spread of Propionibacterium acnes (bacteria that causes acne) and Staphylococcus epidermidis (bacteria that causes staphylococcal infections) in the follicles.
Azelaic acid is also a keratolytic agent, which means it can reduce the risk of clogged skin pores that contribute to inflammatory acne breakouts.
Papulopustular rosacea
Azelaic acid is approved by the Food and Drug Administration (FDA) as a primary treatment for rosacea. It has proven to be safe and effective for treating this condition, with research from Valley Hospital Medical Center, in Las Vegas, noting that it is more effective in gel form than as a cream.
While it is still not fully understood how azelaic acid treats rosacea, researchers believe it is probably due to its anti-inflammatory and antioxidant properties. Azelaic acid is known to be a scavenger of free radicals, which makes it effective for reducing the redness and swelling that accompanies skin conditions such as rosacea.
Importantly — and in contrast to other antibacterial agents — azelaic acid is also gentle on skin, which is critical when you are dealing with skin that is irritated or sensitive.
Melasma
Melasma is a common skin condition characterized by dark spots and patches on the skin. Azelaic acid can help reduce this pigmentation thanks to its ability to inhibit tyrosinase, a copper-containing enzyme that plays a key role in melanin production.
Disrupting this enzyme can brighten the skin and improve overall skin tone. Some clinical trials suggest azelaic acid may be more effective than hydroquinone 4% in reducing melasma, which will come as welcome news to patients whose skin does not respond favorably to hydroquinone.
Hyperpigmentation
Hyperpigmentation is a common condition in which a patch of skin becomes darker than the surrounding skin. It is caused by excess production of melanin, a pigment that gives skin its color.
Hyperpigmentation usually occurs as a result of an inflammatory lesion such as an acne pustule or an inflammatory rash. Azelaic acid is an effective treatment for postinflammatory hyperpigmentation (PIH), or dark marks caused by acne lesions, minimizing the time required to lighten the skin tone and thereby improve its appearance.
>> Learn more about another powerful exfoliating ingredient, glycolic acid. It can brighten and smooth skin, fade sun spots, ease congestion, and soften fine lines.
How to use azelaic acid
As noted, azelaic acid may come in a gel, foam or cream. Depending on your needs, your dermatologist may recommend applying it to your face twice a day, usually in the morning and evening. It may also be prescribed in conjunction with other treatments.
Applying azelaic acid cream is straightforward and usually involves this procedure:
Before applying azelaic acid, prepare the skin by washing it with water and a mild soap or a gentle cleanser.
Pat the skin dry.
Apply and gently massage a thin layer of azelaic acid into the skin.
Layer a moisturizer over the azelaic acid and apply makeup if you wish.
Wash your hands thoroughly after the application.
Avoid getting azelaic acid in your eyes, nose, and mouth. Remember that the best results come from consistency, so try to apply the product at the same time each day.
Always use azelaic acid as directed and be sure to contact your doctor immediately if you experience skin irritation or any other adverse side effects.
When will I see results?
Patience is key when it comes to using any skin care product, as it usually takes some time for your skin to adapt to the treatment.
With azelaic acid, results come quite quickly. Most people start to notice a difference within a few weeks, with results continuing to improve for about six months of continuous use.
In a 12-month study of 1,200 acne patients using 15% azelaic acid gel, more than 8 in 10 (81.9%) dermatologists noticed an improvement within 35 days, as noted in a study published in the Journal of Drugs in Dermatology. By the end of the study, 74% of patients were "very satisfied" with their results, and the majority of patients were more satisfied with azelaic acid than other treatments they had used in the past.
Are there any side effects?
Azelaic acid is not only prized for its benefits, but also because it carries a low risk of adverse side effects.
According to a study published in Cutis, azelaic acid does not affect fetal development, nor does it increase light sensitivity or induce resistance in the bacteria that causes acne. In fact, azelaic acid is tolerated well by most skin types, and many people are able to achieve positive results without experiencing any negative effects.
However, no topical treatment is 100% safe. As Dr. Young explains, products that contain azelaic acid can cause skin irritation in a small number of patients.
"Azelaic acid can result in dry skin or peeling skin," Dr. Young says. "It can also cause the skin to be itchy or cause sensitivity, especially when exposed to the sun. You may also see skin reddening or swelling. If these symptoms occur, it is best to consult with your prescribing physician."
As with any skin care product, you may want to consider a skin patch test to see how your skin reacts to azelaic acid before applying it to your face.
Top azelaic acid products for acne and rosacea
If you're looking to banish your acne or rosacea once and for all, look no further than our favorite azelaic acid products. From more natural solutions to time tested clinical solutions, these products offer a range of solutions.
The Ordinary Azelaic Acid Suspension 10%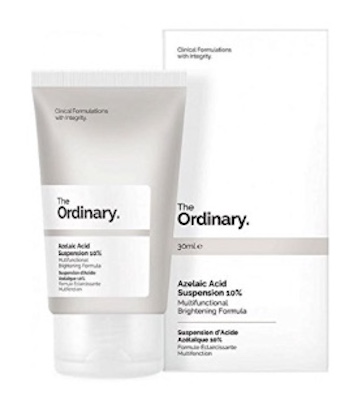 Beloved in beauty circles, The Ordinary's Azelaic Acid Suspension is an all-natural cream-gel system that works wonders for getting rid of blemishes and brightening skin. It has a high purity grade and even acts as an antioxidant to give your skin an extra boost.
Check price
PCA Skin Pigment Gel
PCA Skin Pigment Gel is a spot treatment specially formulated to deal with pigmentation issues, which are often brought on by breakouts or inflammation. It uses azelaic acid to help promote an even skin tone and comes in versions for both normal and sensitive skin.
Check price
Azelique Activated Charcoal & Clay Mask
Great for that deep clean feeling, this Azelique mask detoxifies skin to remove impurities and reduce hyperpigmentation. It utilizes a multi-pronged formula of azelaic acid, sea kelp, and apricot seed powder to leave your skin feeling cleansed but not irritated.
Check price
Jan Marini BioGlycolic Bioclear Lotion
As a heavy-duty acid peel, this face lotion is best for those with tough, acne-prone skin. The combination of azelaic and salicylic acid exfoliates skin and gets rid of acne and redness effectively. That said, this product is too strong for those with sensitive skin.
Check price
Ultramud Exfoliating & Clarifying Treatment
This Ultramud treatment combines the powers of azelaic, glycolic, salicylic, and mandelic acid to restore your skin's appearance. It not only fights acne but prevents future breakouts, making it a great choice for those struggling with pimples.
Check price
The bottom line
Many people are still unfamiliar with the benefits of azelaic acid, but this could change in the years ahead as this natural substance makes its way onto the ingredient list of a growing number of over-the-counter products.
Safe, effective, and suitable for a wide range of skin types, azelaic acid products are a good option for just about anyone who wants to achieve a more even complexion.
» For more information on the benefits of azelaic acid, meet our Medical Review Team.