Google "celebrity plastic surgery" and you're likely to see any number of botched nose jobs, extreme boob jobs, and overzealous uses of fillers.
However, there are also dozens of examples of celebrity plastic surgery gone right. You just may not notice them because truly successful plastic surgeries tend to be subtle.
We invited two highly regarded plastic surgeons to offer their insight into how cosmetic surgery contributed to some of our favorite celebrities' looks. Although it may not be obvious to the untrained eye, these stars have all admitted to undergoing surgeries to either correct irregularities or simply look their best.
Meet the Doctors
While preparing this article, Zwivel consulted Dr. Landon Pryor and Dr. Jonathan Heistein. Both plastic surgeons were gracious enough to lend a keen eye and give us a more nuanced understanding of the surgeries in question.
Dr. Landon Pryor is the President and CEO of Transformations Plastic Surgery in Rockford, Illinois. He is also the Medical Director at Smooth Laser LLC and a Clinical Assistant Professor of Surgery at the University of Illinois College of Medicine. A board-certified plastic surgeon, Dr. Pryor is skilled at assessing patient needs and providing individualized treatments.
Dr. Jonathan Heistein is a versatile board-certified plastic surgeon, author, and lecturer. From his practice in Fort Worth, Texas, Dr. Heistein works tirelessly to improve the quality of life for all his patients. He pays particular attention to the more nuanced aspects of plastic surgery, minimizing post-surgery complications and scar formation.
Both surgeons scrutinized a variety of photographs we submitted to them, showing the changes in question. They then shared their insight as to why these surgeries were successful.
Dwayne "The Rock" Johnson's Liposuction: Bulking Up and Slimming Down
We bet you didn't expect to see The Rock on this list. Dwayne Johnson, known for his antics on screen and on the wrestling stage, had liposuction on his chest in 2005. The procedure was reportedly undergone to correct a case of pseudogynecomastia. In other words, The Rock had some excessive fat build up in the chest region, making for some overly prominent pecs.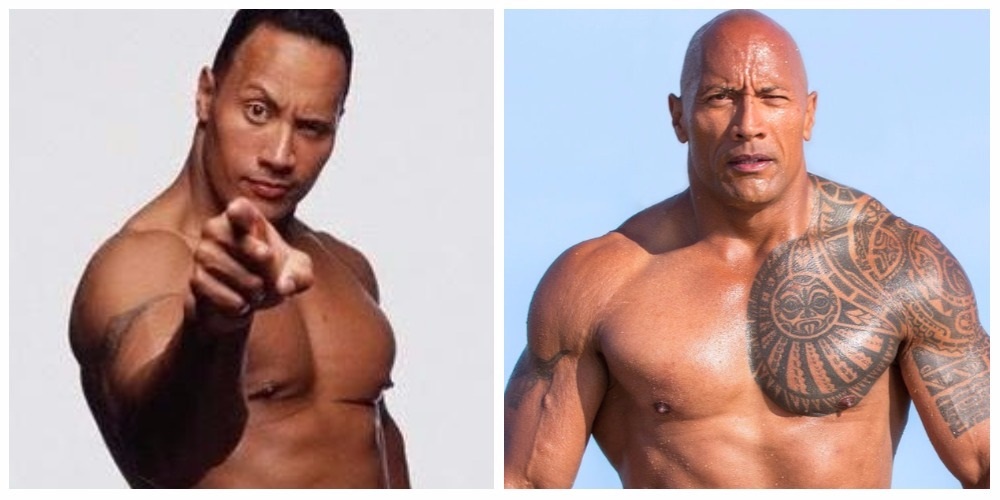 Dr. Pryor challenges this assertion, suggesting that pseudogynecomastia is more common in men who are overweight. The Rock, Dr. Pryor notes, is far from overweight. He asserts that if the Rock had a condition at all, it might have been true gynecomastia, the presence of female shaped breast tissue on a male body.
However, both he and Dr. Heistein agree that the Rock doesn't appear to have had an abnormally sized chest. As Heistein puts it, "bodybuilders sometimes look like they have breasts."
In either case, the surgery looks to have been a success. The Rock's leaner chest, particularly in the lower region where tissue appears to have been removed, doesn't detract from his still formidable stature.
Dr. Heistein does however note that in some photos his lower right pectoral "doesn't have a natural curve." It's possible the liposuction was a little overzealous, but we don't hear any ladies complaining.
Sylvester Stallone's Pre-Rocky Plastic Surgery
The Italian Stallion's signature film was not without its challenges. But to understand the roadblocks he faced in creating the film, you need to understand Stallone's personal struggles stemming from complications during his birth. The doctor who delivered him had to use two sets of forceps. In doing so, he inadvertently severed a nerve in Stallone's face. This lead to the snarl and slurred speech for which he's known.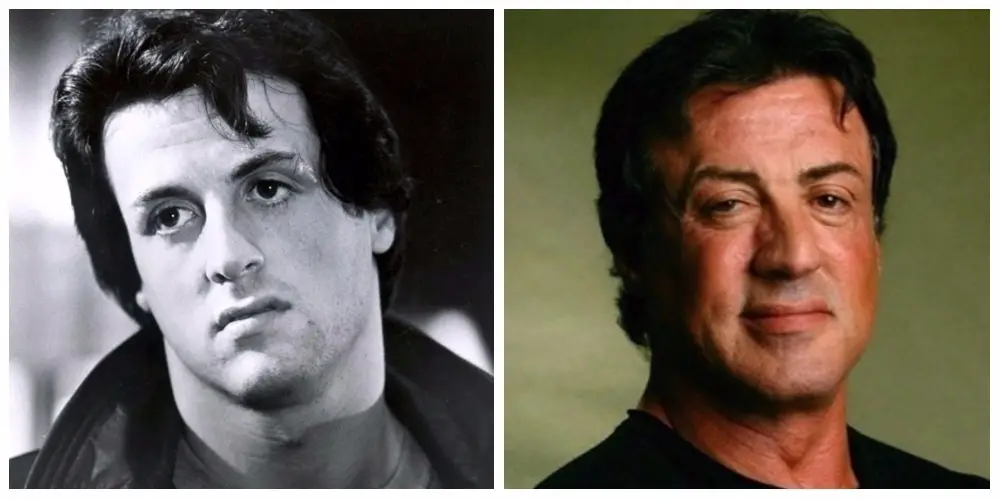 Stallone admitted to having plastic surgery to correct the facial asymmetry when it started to droop. The surgery reportedly occurred just prior to Rocky.
Doctors Pryor and Heistein note that it's difficult to tell how successful the surgery was. His face continues to be at least somewhat asymmetrical. Both doctors note that his right side does appear to be weakened by nerve damage, and that the damage is evident even after the surgery.
Today, some volume has been added to Stallone's face to balance out his stronger and weaker sides by way of fillers, making his more recent procedures more evident.
Demi Moore's Breast Surgery: A Boost for Striptease
Former Brat Pack member Demi Moore was moving a long way from her John Hughes roots when she starred in Striptease. The film definitely took her out of her element, but it wasn't just the dancing that caught the attention of the A-list star's fans and red carpet fashion gurus. Her breasts were looking a little rounder. Moore had gotten breast implants in 1996 — reportedly in preparation for the role. She later had the implants removed and replaced with a simple breast lift.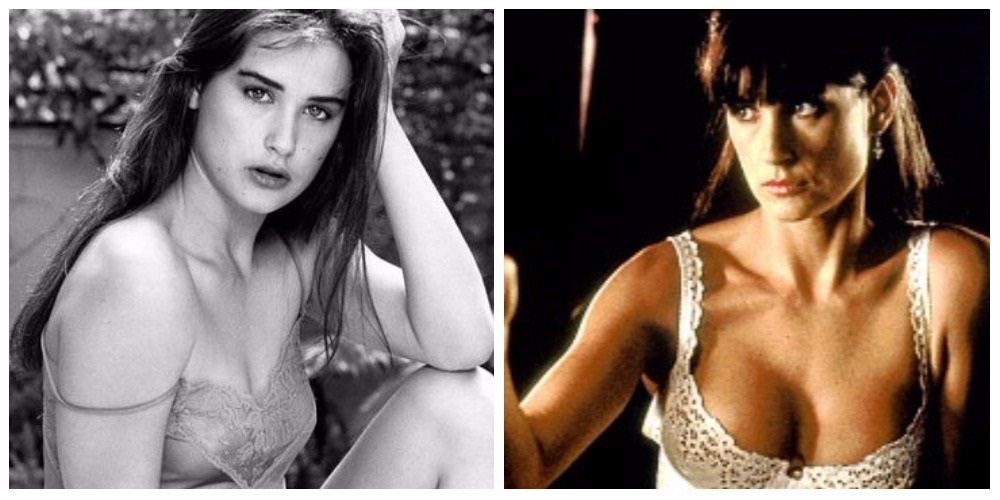 Dr. Pryor agrees that Moore's breasts appear fuller, particularly in the "upper pole" of the breast. In other words, they were looking a tad buoyant with a subtle hint of the roundness so commonly associated with the surgery.
Still, Dr. Pryor notes that although the change is evident, the implants look natural. He also notes that the subsequent breast implant removal and breast lift are clear as the top of the breast no longer has the same rounded appearance.
Dr. Heistein, on the other hand, maintains that it's difficult to assess the quality or even the presence of breast implants unless the subject is naked. "We could have someone in there without breast implants and wearing a really good miracle bra, and that would look fine too," he says.
Kaley Cuoco's Tasteful Transformation
The Big Bang Theory star made a big Hollywood splash as the bombshell next-door neighbor to television's favorite nerds. However, prior to her more recent successes, she had work done to boost her looks and confidence.
In 2004, when Cuoco was only 18 and still starring on ABC's 8 Simple Rules, the starlet got a subtle breast augmentation, a decision that she reportedly calls the best she ever made.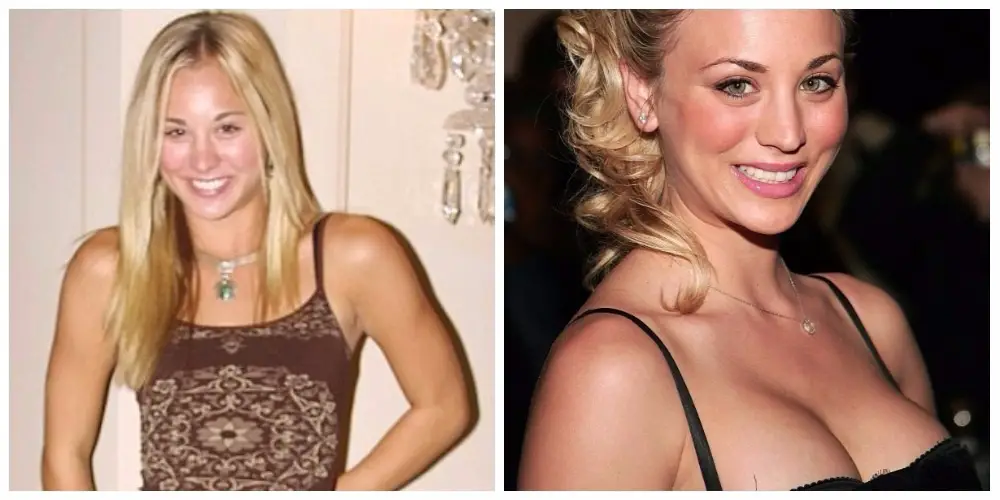 Just as with Demi Moore's implants, Dr. Pryor notes that Cuoco has more "upper pole fullness." He comments on the quality and style of the implants, stating that, given their natural appearance, Cuoco likely received silicone implants. He notes saline implants can appear "like a water balloon under the skin," a look many attribute to overly large implants.
Despite his reservations about making too many assumptions about breast implants based solely on clothed photos, Dr. Heistein admits Cuoco's implants do make her breasts look fuller. However, as he says, "a bra can change everything."
Jane Fonda's Age-Defying Surgeries
Whether in her classic role as Barbarella, her fitness videos, or her more recent work on Grace and Frankie, Jane Fonda has always worked hard to look her best. Getting plastic surgery is no exception. Fonda has talked openly about her efforts to maintain her looks through facelifts, chin lifts, fillers, and more. Although she has occasionally come down on the need for plastic surgery and the ease with which some people become addicted to it, Fonda admits that it "bought [her] a decade."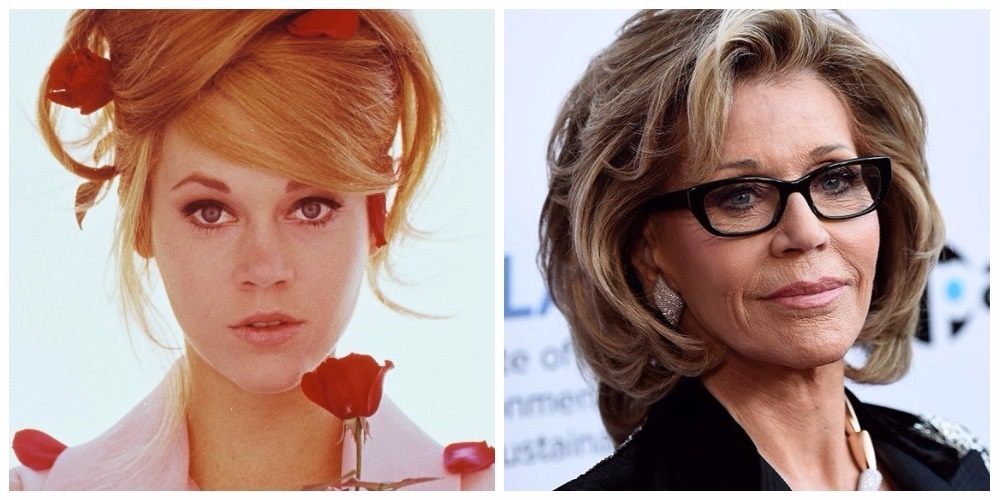 It would seem that plastic surgery bought her more than just a decade. Both doctors note that images depicting Fonda at age 76 look more like they belong to someone in her 40s or 50s.
Dr. Pryor calls the surgery a success, but notes that Fonda has lost some volume in her face. He considers this volume an "undeniable sign of youth" and suggests fillers may have been injected to restore some of it. Both doctors acknowledge Fonda's more recent attempts at fillers do not look natural and detract from her more successful procedures.
Both Dr. Pryor and Dr. Heistein agree that Fonda's natural beauty contributes to the success of her looks. "People who are more attractive when they're younger age more gradually," Dr. Pryor says of the actress, suggesting that genetics and a naturally well-crafted skeletal support are partly to thank for her continued good looks.
Christina Ricci Goes from Pudgy to Petite
Christina Ricci has admitted to numerous surgeries in order to maintain her looks, including a rhinoplasty (nose job). Exactly when it was performed is unclear, but if you compare photos from her older films — such as Casper and Now and Then — with her more recent captures, you can see a subtle but unmistakable adjustment in the shape of her nose.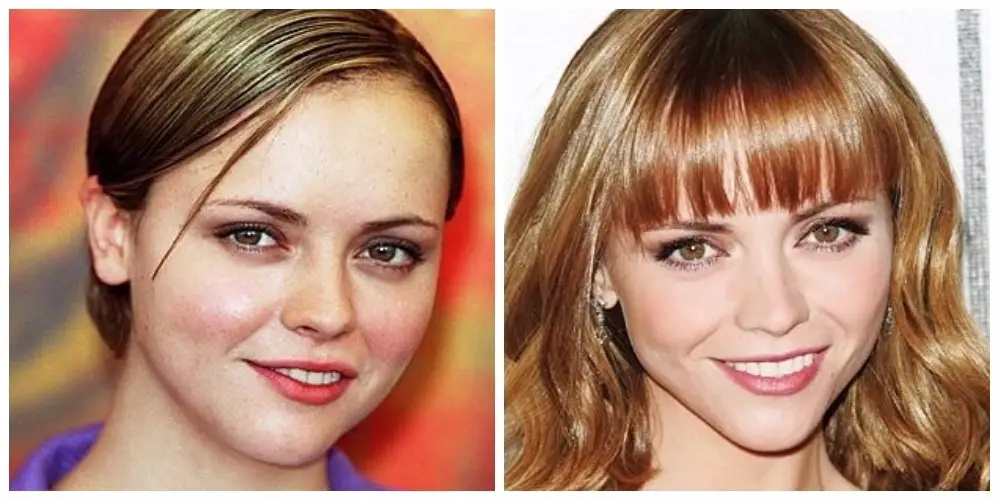 Doctor Heistein agrees, observing that Ricci's nose was a little wider and the tip slightly upturned "almost like a pug nose" in her younger shots. Her more recent photos show a nose that's somewhat narrower and better defined. Dr. Pryor agrees that the actress's new nose, including the tip, has more definition. However, he doesn't believe that her older nose was upturned at all.
Both doctors agree that Ricci's old nose was by no means a bad one. However, given the slimming in her face (likely due to her unnamed procedures), the new more contoured nose may suit her face better.
Cameron Diaz Breaks Her Nose… Again
The gorgeous There's Something About Mary actress also admits to having a nose job, citing repeated nose breaks as the catalyst for the procedure. Diaz reportedly broke her nose four times prior to 2006, when the rhinoplasty was performed. We asked the doctors to look for signs of breakage and evidence that the new nose did the trick.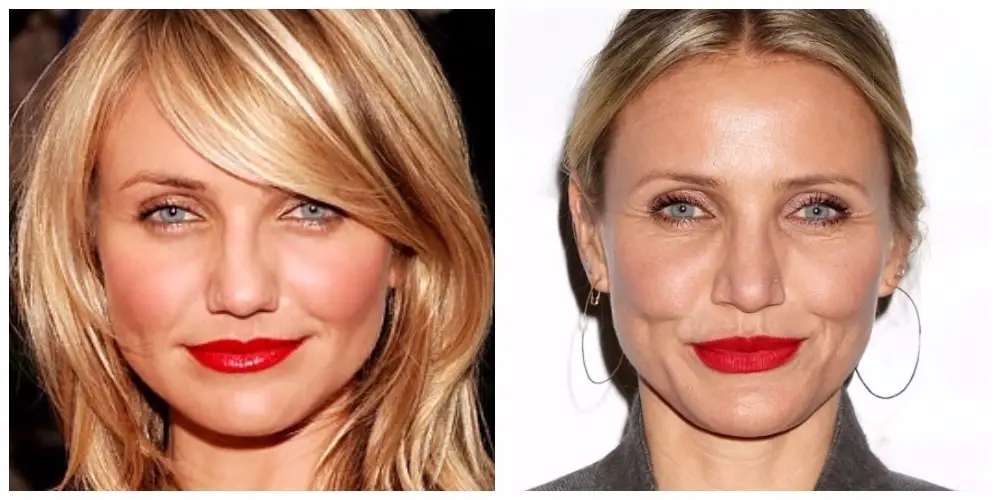 Dr. Heistein noticed a difference, commenting on how photos of Diaz prior to the procedure showed a nose that was "crooked and wide," suggesting breakage. He sees improvement in the more recent pictures. Dr. Pryor, on the other hand, is not convinced that the surgery solved all of Diaz's nose problems. He notes that the lines on her nose don't appear to be straight, even after the 2006 surgery. However, it appears some of the other deficiencies caused by the breaks may have been corrected.
One successful surgery may leave Diaz feeling better about her nose, but it's possible she would benefit from additional surgeries to really get it back in shape.
Lisa Kudrow's High School Makeover
Lisa Kudrow has been outspoken about the success of her rhinoplasty. The Friends star got her nose job when she was only 16 years old and transferring from one high school to another. She describes the experience as life-changing and says it gave her the confidence she needed that led to her successful career.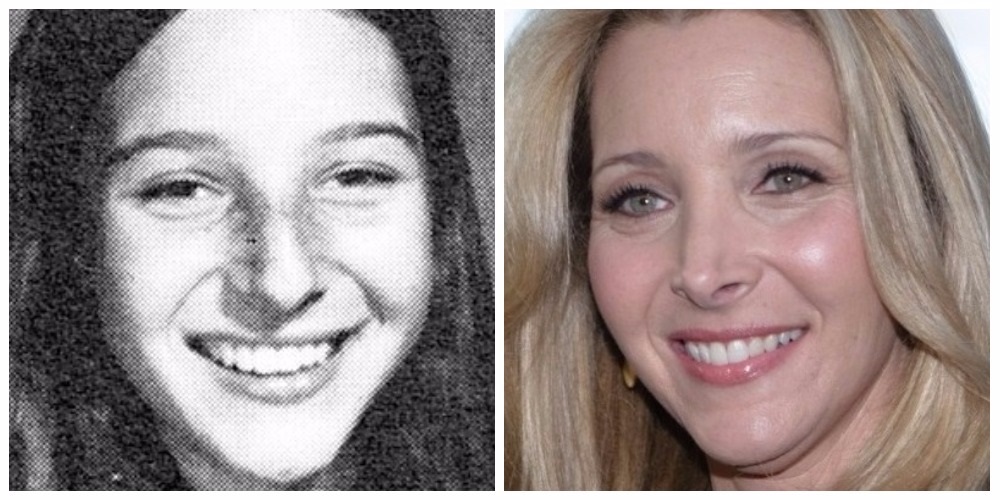 Doctors Pryor and Heistein agree that the nose job did wonders for her looks. They both observe a hump on her previous nose that was corrected by the procedure. However, both doctors also note that more recent pictures of Kudrow show an overly flared tip, something that could either be a product of age or a stylistic choice.
Challenges and Aesthetic Differences
As mentioned earlier, Dr. Heistein found it challenging to assess breast implants on images of clothed women. Photos present challenges in general and both doctors acknowledge that their assessments should be taken with a grain of salt.
What's more, whether a cosmetic surgery is a success comes down to the patient and if they feel better about how they look afterward. As Dr. Heistein says, "it's all a matter of popular opinion – what's aesthetically pleasing and what isn't."
Why don't you use these products after your plastic surgery?
Restore and improve the appearance of the scars with these products that have been deemed to be most effective during recovery.

Mederma Advanced Scar Gel
Clinically proven to improve the overall color, texture, and appearance of scars, including acne scars, surgical scars, and scars from burns, cuts, and other injuries. After about 4 weeks of daily use, you would notice a noticeable improvement, with maximum improvement in 8 weeks.

DERMA-E Scar Gel
Formulated with Panthenol, Allantoin, and onion bulb extract to hydrate, soothe, and promote self-healing. The extra brightening properties significantly improve scar texture, color, and overall appearance.

WoundVite Dietary Supplement – Post-Surgical Repair Formula
The all-natural combination of supplements promotes wound care healing, tissue recovery healing, and scar healing. This high-potency scar treatment vitamin also aids in post-surgical healing and can be used with topical scar removal creams or other topical scar removers.

Mederma PM Intensive Overnight Scar Cream
Formulated to complement nighttime activity with tripeptol. Peptides, collagen, and antioxidants promote healthy-looking skin and aids in the fight against free radical damage. The once-daily application makes the scars look smaller and less visible, with noticeable results in as little as 14 nights. You can use Mederma PM safely in conjunction with other cosmetic products such as lotions and makeup.

Zax's Scar Fading Cream
Bothered by new or old scars, use the safest and effective natural scar treatment to fade away scars in just a few weeks and soften the skin.