Instantly Ageless is a topical "microcream" used to treat wrinkles, fine lines and under-eye bags.
The formula contains the peptide Argireline, which has been branded as a topical alternative to Botox.
Fillers, Botox and eyelid surgery may be more effective and cost less in the long run.
What is Instantly Ageless?
Instantly Ageless, or "a facelift in a box," by Jeunesse is a topical anti-aging cream that claims to instantly reduce the appearance of under-eye bags, fine lines, wrinkles and enlarged pores – but there's a catch.
Unlike most skincare products, Instantly Ageless doesn't claim to provide long-term results. Instead, it tightens skin and smooths away wrinkles for a short time, usually between six and nine hours per application.
How does it work?
To put it simply, this anti-wrinkle cream won't permanently erase visible signs of aging, but it may smooth them away temporarily.
Although you can certainly use it every day to get rid of puffy eyes and wrinkles, for lasting results you'll have to pair it with long-term anti-aging products. Alternately, if you have stubborn, deep or frustrating skin imperfections, you should consider more permanent options.
To understand how this product works, it's important to delve into the list of ingredients that make up what Jeunesse calls their "anti-wrinkle microcream."
The product is primarily composed of minerals called silicates (sodium silicate and magnesium silicate) that create a paste as they dry on the skin, which gives the formula a tightening effect. Acting as a clay, these silicates bond together and increase the tension on the facial skin, which is ideal when you're trying to target puffy eyes.
Instantly Ageless also contains an ingredient called acetyl hexapeptide-3 (Argireline) – a peptide that's said to mimic the effects of Botox. In essence, Argireline relaxes the facial muscles in the same way that a Botox injection might.
Studies show that this ingredient is effective at diminishing the appearance of wrinkles by as much as 30%. The trouble with Argireline as a whole is that it doesn't always penetrate deep into the skin, so it may be better for fine lines than deep wrinkles.
The cream also contains iron oxide, an inorganic pigment that's often used in skin products to smooth over imperfections for a flawless finish. Other active ingredients in the Instantly Ageless formula include the skincare preservative phenoxyethanol and the deodorizer ethylhexylglycerin, which are generally considered safe but can cause allergies or irritation in some people.
How to use Instantly Ageless
The brand dubs this product a "microcream" because it only requires a tiny amount to generate the best results. In fact, each individual vial holds only 15 milliliters. The manufacturer claims that Instantly Ageless is safe for most skin types, and can be used all over the face and neck. Although it can help target specific problem areas, like crow's feet, it shouldn't replace your regular eye cream.
After you apply Instantly Ageless, you must remain still, limiting your facial expressions for two or three minutes. It's recommended that you use the smallest amount of cream possible to avoid build-up of a white residue or film – particularly if you apply it under your makeup. The product claims to deliver a tight, youthful appearance for up to nine hours.
Instantly Ageless is especially useful in getting rid of under-eye bags as you simply dab it onto the skin before applying makeup. Be sure to close the cap tightly if you don't use the entire vial as the product can dry out when exposed to air.
What are the side effects?
Instantly Ageless is marketed as safe, with few known side effects. That said, if you have a particularly sensitive skin type or are prone to redness and irritation with new products, be sure to consult your dermatologist before use.
When starting any new regimen, it's a good idea to test the product on a small spot on the inner arm before applying it to a larger area or the face.
What is the cost?
The product is typically sold in a pack of 25, 15-milliliter tubes, but strips of five tubes may be available at some stores. Be sure to purchase the product directly from Jeunesse or from a retailer you trust to ensure that you get the real deal.
Each 25-pack costs about $50 USD, so each tube costs around $2. While this may seem like a steal for a product that's marketed as an alternative to Botox, remember that you're paying for only a few hours of youthful skin, so consider the long-term cost of using Instantly Ageless every day.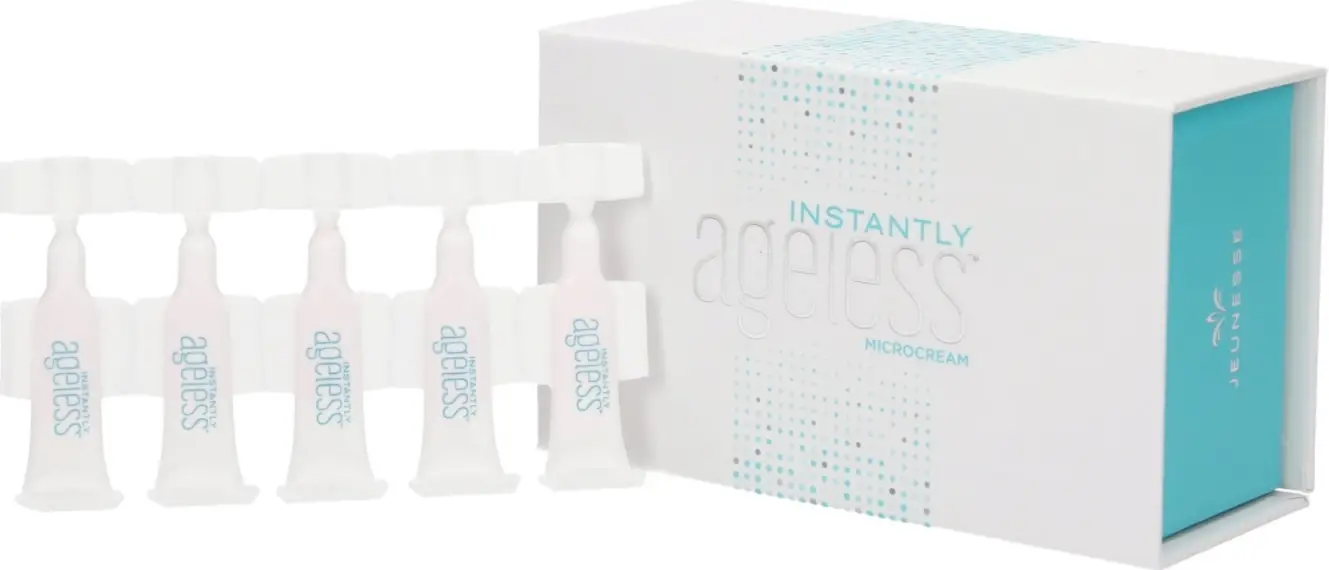 What do the reviews say?
Take a deep dive into customer reviews and you'll see that Instantly Ageless certainly appears to do what it says it does. It's been featured on Good Morning America, The Doctors, and Inside Edition, each time demonstrating its apparent efficacy. And, of course, Jeunesse itself has sponsored clinical trials that suggest that the product works as intended.
On the other hand, many users have also reported that Instantly Ageless does little to temporarily erase wrinkles, fine lines and under-eye bags. Dermatologists warn that the product won't work for everyone or reverse all the signs of wear and tear on the skin.
While it might effortlessly soften your under-eye bags, there's a good chance it won't erase stubborn dark circles. We would advise that you take a look at the reviews on Amazon to see how the product performs with specific skin types and concerns.
Can It replace cosmetic procedures?
The major flaw of this product is that it isn't a permanent fix. While the cost and effort seem low up-front compared to Botox, a facelift or other cosmetic procedures, the temporary results mean you'll have to continuously stock up on the product.
Bearing that in mind, read on to see how Instantly Ageless compares to the cosmetic alternatives.
Botox remains the best treatment for under-eye bags and aging skin in general but even this is a temporary solution. Generally, the effects of Botox last between three and six months. However, Botox is the world's top non-surgical cosmetic procedure for a reason, and there is a massive body of research proving its efficacy. At the current time there are no products likely to take its place – even the promising peptide Argireline.
If you want to avoid the needle, there are some topical treatments that are effective at reducing the visible signs of aging on the eyelids and under eyes. Hyaluronic acid fillers such as Juvéderm are also proven effective at getting rid of that saggy skin under the eyes, yet they too are temporary. One Juvéderm treatment will last you anywhere from four to nine months, so regular maintenance is required.
If you're looking for a no-nonsense, permanent solution for puffy eyes, there is such a thing as lower eyelid surgery. A plastic surgeon can reduce loose or sagging skin beneath the eyelids, which permanently eliminates cosmetic issues in the under-eye area.
Should you try it?
There's no harm in giving Instantly Ageless a shot, especially if you buy directly from Jeunesse, where a 30-day money-back guarantee protects your purchase. If you're looking for a more long-term and cost-effective solution, Botox, under-eye fillers and cosmetic surgery may be more suited to your needs.
» As always, don't forget to consult your dermatologist before trying any new skincare product. Meet our Medical review team.