Juvederm Vollure is the first hyaluronic acid dermal filler approved for wrinkle treatment. Its enduring results last over a year longer than most fillers — up to 18 months total.
While this filler is not recommended for cheeks or lips, it is most effective when correcting nasolabial folds — also called "smile lines" or laugh lines."
Juvederm Vollure can be combined with Botox for a "liquid facelift," a minimally invasive procedure that can reduce the visible signs of aging.
What is Juvederm Vollure?
Officially called Juvéderm Vollure XC, the Food and Drug Administration (FDA) approved filler is used to correct moderate to severe wrinkles, deep lines, and folds around the mouth and nose — aka "marionette lines" or "parentheses lines."
The product is made by Allergan, the same pharmaceutical company that produces Botox, Latisse, Juvéderm Volift and several other clinical cosmetic products. What makes Vollure stand out from other injectables — including common fillers Belotero and Restylane — is that it's the first and only hyaluronic acid dermal filler that's approved for wrinkles and lasts up to 18 months.
How does Vollure work?
The primary active ingredient in Vollure is hyaluronic acid (HA), which is a naturally occurring, hydrating substance that's found in your skin. As you age, your body produces less HA, which causes the dermal layers to gradually lose their volume and structure while also exhibiting low cohesiveness.
HA fillers are a popular choice for deep wrinkles, and have been proven effective in many clinical trials.
As with other facial fillers, Vollure should only be injected by a medical professional. On the day of treatment, your provider will be able to determine how much filler is required to correct your specific skin concerns. A series of facial injections — much like Botox injections — will then be performed in the desired areas.
Before and after pictures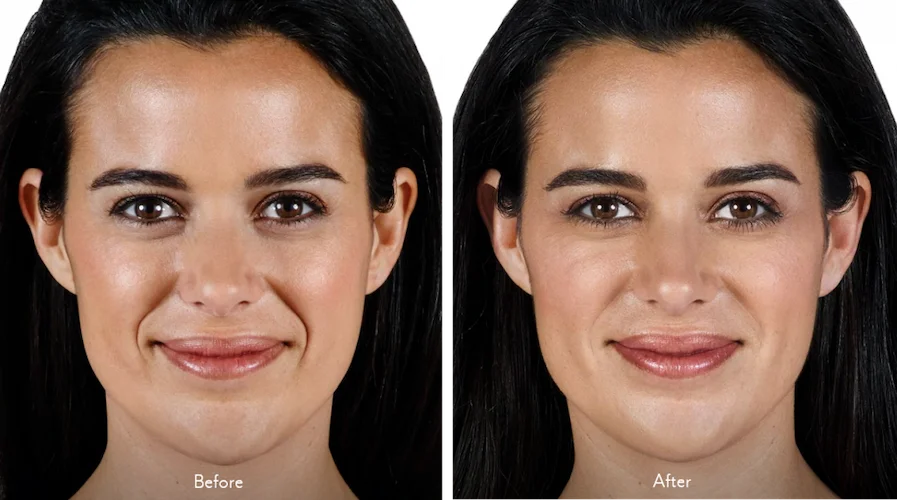 Recommended Vollure injection sites
Vollure XC is most commonly used to correct nasolabial folds — typically referred to as "smile lines" or laugh lines" — and is available to patients over the age of 21.
Vollure is not recommended for use in:
With the Vollure XC injectable gel, doctors are able to employ both initial and touch-up injection techniques to smooth moderate to severe facial folds. This versatility is due in part to Allergan's advanced Vycross technology, which blends different molecular weights of hyaluronic acid to produce an ultra-smooth, long-lasting gel.
>>Looking for fillers in the cheeks, lips, or under-eyes, learn more about the Juvederm product family and which filler is right for you
How effective is Vollure?
One of the most promising benefits of Vollure is that it's made to last longer than other smile line fillers. A single Vollure treatment can provide you with 18 months of wrinkle correction, over one year longer than most other fillers can offer.
Safety and side effects
In some cases, you may experience mild swelling of facial tissue at the treatment area. Swelling is normal for the first 48 hours or so following treatment. In extreme cases, patients have experienced bruising and swelling for several weeks post-treatment.
As with any filler, there is the risk of allergic reactions, infections, and lumping. Make sure you carefully read all the safety information about Vollure side effects, and talk to your doctor about possible injection site responses before scheduling injections.
Other side effects such as pigmentation disorders, hypertrophic scarring, and scaring are highly unlikely with Vollure.
Since there haven't yet been any studies testing the safety of this product in pregnant or breastfeeding women, it's not recommended under those circumstances. Further, if you're planning additional treatments, such as a chemical peel, you may be at a higher risk for inflammation at the treatment site.
Recovery and aftercare
After receiving Vollure fillers, you do not need to stay in a clinic overnight and can drive yourself home immediately after the treatment, which typically takes between 15 and 30 minutes. You should see optimal results in a week's time.
Following treatment, the majority of patients experience a pretty simple recovery, with some injection-site redness for a few minutes following the injection. If this concerns you, your doctor may recommend covering the red spots up with a bit of makeup. Following treatment you can return to work and exercise as you normally would.
How much does Vollure cost?
The cost of Vollure treatments varies widely, from a few hundred dollars to a couple thousand dollars, depending on the location of your provider and your specific needs. Generally speaking, your doctor will charge between $800 and $1,500 per syringe. Like most facial fillers, Vollure is priced per injection, so your final cost will vary based on your needs.
Overall, Vollure costs about the same or slightly less than most other nasolabial fold fillers. There are more affordable options — such as Evolence, which costs approximately $500 per syringe — but these options don't last as long as Vollure.
Studies
Allergan claims that in one clinical trial, 59% of new subjects saw an improvement in moderate to severe nasolabial folds for up to 18 months.
Furthermore, according to a 6 month outside study 93% of patients still maintained results at the conclusion of the six months. 82% of patients reported they were still satisfied with their results. The study concluded that Vollure is safe and effective for the treatment of moderate to severe nasolabial folds.
Frequently asked questions
What can Juvederm Vollure treat?
Vollure is primarily used to treat deep smile lines around the mouth and nose and, in fact, the most promising studies have only focused on those facial areas.
Can I use Vollure on my cheeks?
It is not recommended. For your cheeks, you might consider trying Juvéderm Voluma or any number of other popular fillers. Voluma uses the same Vycross technology as Vollure to help smooth cheek lines.
Can I use Vollure on my lips?
Again, not recommended. You can opt for Juvéderm Volbella or Juvederm Ultra for lip augmentation or correction of perioral rhytids (vertical lip lines).
What other Juvederm filler products exist and what do they treat?
If you are looking for treatment in the cheeks and lips, Juvederm has other products that are more suited to handle these areas.  Juvederm Ultra XC and Juvederm Volbella XC are both used to treat the lips, while Juvederm Voluma XC is used to add volume to the cheeks.
What is the difference between Botox and Vollure?
Botox isn't generally recommended for particularly pronounced nasolabial folds, and is more often used to temporarily treat crow's feet and frown lines. Unlike Botox, facial fillers provide immediate results and tend to last longer. Botox generally lasts three to four months whereas results from Vollure last for over a year.
Can I combine Botox and Vollure?
Many patients combine Botox with dermal fillers like Vollure in a procedure known as the "liquid facelift" because they feel it offers more dramatic, younger-looking results.
Takeaway
Juvéderm Vollure XC is ideal for those looking to correct their smile or laugh lines with a minimally invasive procedure.
Following the quick 15 to 30 minute procedure, the simple recovery offered by Juvederm Vollure will leave most patients with only a quickly fading redness at the injection site. Within a week of injection, patients begin to experience the full benefits of the procedure. With up to 18 months of results, this HA filler can offer the long term wrinkle relief that many desire.
Find a Vollure provider near you
If you're interested in Juvederm Vollure XC, a consultation with a healthcare provider will help you reach a decision and will provide answers to any additional questions or concerns you may have.
Meet our Medical Review team.