Plastic surgery can signify a lot of things for a lot of people. For some patients, it's a means of achieving the perfect look, mastering their insecurities and taking out a new lease on life, while for many doctors it's a vehicle for helping people find happiness at the intersection of skill and creativity.
Whatever your personal philosophy when it comes to plastic surgery, there's no denying that the subjective nature of the discipline can sometimes make it hard to agree on the parameters for success. To answer these questions we spoke to five highly-skilled plastic surgeons about the challenges and rewards of their work.
Although these doctors all come from different backgrounds and manage practices in different regions of the country, they do share a certain philosophy nonetheless: plastic surgery is two parts medicine and one part art – it requires a versatile mastery of the human body coupled with a creative eye. A successful procedure must satisfy both function and aesthetics. Therein lies the challenge.
While functional and technical success can be measured more easily, aesthetic success is far more subjective. That being said, there is one way it can be measured, however, and that's by the smile on a patient's face upon seeing the final result of their surgery.
Dr. Sachin M. Shridharani – New York, NY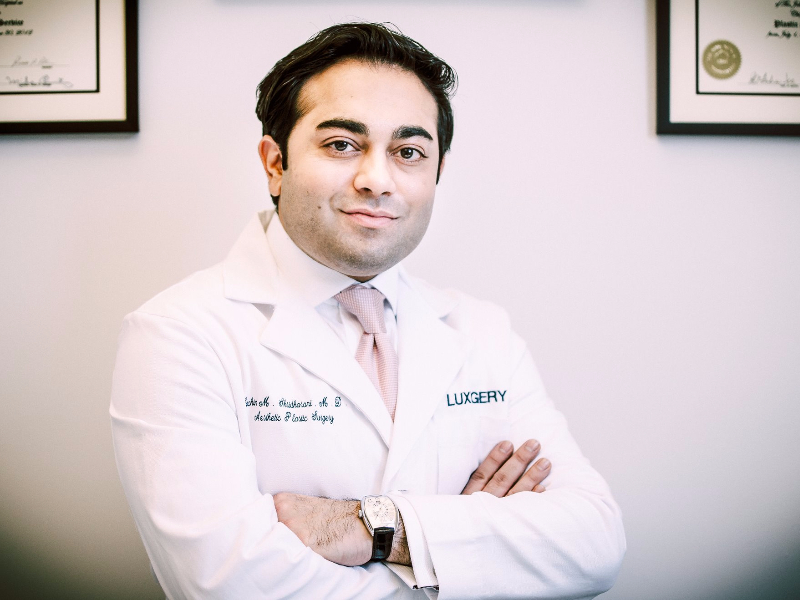 Dr. Sachin Shridharani performs a wide variety of procedures at Luxurgery, his New York City practice. However, when asked about his specialties, he speaks enthusiastically about drainless abdominoplasties, also know as the no-drain tummy tuck. Dr. Shridharani has embraced this relatively new technique for how well it benefits his clients. The procedure reduces downtime as it eliminates the need for a drain that protrudes from the stomach after surgery.
It's fair to say that Dr. Shridharani is excited by innovation. In fact, this interest in the new and different speaks to his reasons for becoming a plastic surgeon in the first place. Although he'd known for some time that he wanted to be a surgeon, he didn't choose plastic surgery until he began his medical school rotations. In a single day a surgeon might work with adults and youths, or handle serious reconstructive plastic surgery and facial cosmetic surgery. This versatility attracted him to the profession, as did the demand for a high level of well-rounded skill. As Dr. Shridharani himself says, "the plastic surgeon seems to truly have the mastery of anatomy."
So how does Dr. Shridharani define success in plastic surgery? He speaks of two main criteria: patient satisfaction and surgeon satisfaction. He notes that for a surgery to be truly successful, both of these measures must be met. In other words, a surgery that is technically perfect is not successful unless the patient is also pleased with the results.
A surgery that is technically perfect is not successful unless the patient is also pleased with the results.
On the other hand, a happy patient does not necessarily equal a happy surgeon. Surgeons who feel their work wasn't their best shouldn't just accept a happy patient and move on – they should reflect and strive to be better. In short, every satisfactory surgery is a combination of technical and subjective success when, as Shridharani explains, "the desired result is met by the desired and appropriate technique."
When asked to share some of his successes, Dr. Shridharani looks back to his residency and those moments that were most meaningful to him as a budding surgeon. He cites the first time that he was left alone to complete a plastic surgery procedure. Other outstanding memories include the times when he first assisted in rare surgical procedures such as a face or hand transplant. It's no wonder Dr. Shridharani espouses new techniques so zealously, given his passion for the challenges of the profession.
He experiences the most satisfaction when plastic surgery patients have a thorough understanding of their goals and the procedure they've agreed upon is a good match for them. It's of paramount importance to him that prospective patients recognize that clarity of purpose and understanding of the scope and seriousness of the process is the key to a successful outcome.
Dr. Tenley K. Lawton – Newport Beach, CA
As a mother of two, Dr. Tenly Lawton knows firsthand the toll pregnancy and child-rearing can take on a woman's body. She credits this empathy as the reason why so many women choose her for post-pregnancy surgeries. This shared understanding is also why she effectively specializes in the mommy makeover at her practice, which serves Newport Beach and Orange County in Southern California.
Dr. Lawton notes that the mommy makeover isn't always composed of the exact same elements. It may include anything from breast augmentation and breast lift to tummy tuck and liposuction. The combination of cosmetic procedures recommended for any given woman depends on her specific needs. At the end of the day, the ultimate goal is renewed confidence and happiness.
Dr. Lawton's initial interest in plastic surgery was sparked during her medical school rotations when she witnessed the wide variety of procedures the field offered. However, it was the potential for creativity in the practice that ultimately cemented her decision. Dr. Lawton enjoyed the "artistic side" of plastic surgery, admiring the attention to detail the discipline demanded. While our bodies might function similarly, they're all unique. Given the aesthetic nature of plastic surgery, it's important to factor in that unique appearance and appreciate how each procedure must be tailored to each individual for optimal results.
For Dr. Lawton, success is two-fold. She shares Dr. Shridharani's belief that a truly successful procedure satisfies both the patient and the surgeon, which is precisely why she feels it's imperative that patient and surgeon make sure they're on the same page prior to surgery. When asked to cite a particular incidence where she felt profound satisfaction, she relates a story in which a patient experienced a dramatic improvement in her quality of life, illustrating that, for Dr. Lawton, true success requires more than just a well-executed surgery, but an emotional transformation as well.
True success requires more than just a well-executed surgery, but an emotional transformation as well.
Dr. Lawton tells the story of a mother who arrived for her consultation sheepish and uncertain, both about her body and the concept of plastic surgery in general. The patient seemed almost guilty about wanting to change the aspects of her body that embarrassed her and made her want to hide away from the world. These changes "overflowed into multiple aspects of her life," recalls Dr. Lawton. After undergoing a mommy makeover, the patient experienced renewed confidence and began approaching her family with a fresh perspective. She was able to enjoy going to the beach without feeling a need to cover up in any way. For this patient, success meant taking  back control of her life and living it to the fullest.
Dr. Christine Blaine – Huntington, NY, Staten Island, NY
Having started her career with a degree in Psychobiology, a discipline which examines the physiological bases for behavior, Dr. Christine Blaine believes that physical and emotional health are linked and, as a surgeon, her objective is to tackle both. As stated on her website, Dr. Christine Blaine's plastic surgery practice addresses "the emotional facets of patient care." She frequently receives requests for breast implants, breast reduction and breast lifts, often coupled with a tummy tuck, which is why, despite offering a wide range of services, she considers breast work and the mommy makeover as her two primary areas of expertise.
Dr. Blaine's journey towards a career in plastic surgery was a relatively tumultuous one. Her interest in medicine first developed as a result of her undergoing open heart surgery as a child. "I'm alive because of them," she says of the doctors who handled her case. However, while working toward becoming a doctor, she experienced a self-described mid-life crisis and decided to try her hand at becoming Physician Assistant (PA) instead.
Eventually, however, she found her way back to medical school and, while there, began working under a plastic surgeon who told her that she "had an eye" for plastic surgery and should really reconsider pursuing it as a career. Encouraged by this confirmation, Dr. Blaine opted to follow this surgeon's advice and promptly embraced his recommendation, quickly realizing she'd made the right choice. For her, plastic surgery has the perfect balance between helping the sick and working with healthy, happy people.
Plastic surgery has the perfect balance between helping the sick and working with healthy, happy people.
It's clear from Dr. Blaine's story that she values emotional health and happiness both in herself and in her patients. In fact, patient happiness is the number one measure of success in her practice. The way she sees it, if a patient comes to her seeking renewed confidence and gains that confidence post-surgery, the surgery was a triumph.
Dr. Blaine relates a touching story about one sixteen-year-old girl who came to her suffering from a congenital abnormality that caused both her breasts to be "tubular."  Further complicating matters, her breasts were also profoundly uneven: one barely an A-cup, the other a C-cup. After Dr. Blaine's treatment, however, the girl was able to live her life with greater confidence, feeling positive about going to school and interacting with her peers. "You feel like you've changed someone's life for the better," states Dr. Blaine.
For this girl and other patients like her, the importance of being able to access a professional like Dr. Blaine cannot be underestimated. A doctor can change lives for the better.
Dr. Alexander Ovchinsky – Short Hills, NJ
Founder of Plastic Surgery of Short Hills, a practice serving the New Jersey area, Dr. Alexander Ovchinsky focuses on facial plastic surgery and reconstructive surgery. Having performed extensive research in the field and receiving numerous requests for the procedure at his practice, he considers rhinoplasty to be his surgical specialty. He credits his time as a resident in Head and Neck Surgery at the State University of New York, where he learned about the external and internal aspects of the nose, with helping him to select rhinoplasty as a specialization.
As for plastic surgery in general, Dr. Ovchinsky says he was drawn to both the versatility of the discipline as well as its emphasis on function and aesthetics. He perceives it as an interesting combination of technical expertise in terms of restoring or maintaining function, and creative expertise in terms of making aesthetically pleasing changes.
This is a particularly potent combination when it comes to rhinoplasty, given that the nose is both highly functional and the center point of the face. "It allows you to express yourself as an artist," says Dr. Ovchinsky, acknowledging how intuition and a general understanding of facial aesthetics is required for success. "This artistry component plays a very important role in the final successful outcome," he concludes.
It allows you to express yourself as an artist – this component plays a very important role in the final successful outcome.
Dr. Ovchinsky also measures success by patient – surgeon satisfaction. As with many surgeons, Dr. Ovchinsky recognizes that these two aspects don't necessarily always correlate, but when they do, the surgery at hand can be considered a complete, unbridled success.
When asked to elaborate on any one surgery he considered to be particularly successful, he struggles at first but ultimately settles on the case of a patient who came to him with a bony tumor near his eye that significantly interfered with his vision. Dr. Ovchinsky effectively removed the obstruction, thus restoring his patients vision and drastically improving his quality of life. He deemed this surgery had a "great functional and cosmetic outcome," suggesting how a total success with plastic surgery requires both elements.
Dr. York Yates – Layton, UT
Dr. York Yates' Utah practice started out by offering a wide range of services. He himself has been trained in a broad spectrum of plastic surgery procedures, including reconstructive and hand surgery. However, as his practice grew, its focus narrowed to cosmetic surgery of the breast and body, offering everything from breast augmentations and nipple reductions to the full-on mommy makeover. Dr. Yates cites growing demand as the reason for his specializing on breasts, stating that it was becoming impossible to deliver on too wide a menu of services.
This interest in all aspects of aesthetic surgery makes sense when you consider what inspired Dr. Yates to pursue this line of work in the first place. "I've always had an artistic eye," he says, "and have spent a lot of time painting, drawing and working with my hands." While still in medical school, he realized that as a plastic surgeon he'd be able to apply his creative side to his work, making it an obvious choice for him. Even his father, a family general practitioner, recognized that plastic surgery was his son's true calling. Dr. Yates hasn't looked back since. "It seemed like a great marriage of art and medicine – and one that has proved successful for me."
It seemed like a great marriage of art and medicine – and one that has proved successful for me.
How does an artist define success in plastic surgery? Dr. Yates emphasizes patient appreciation. His business relies on referrals and he understands the value of a happy patient. However, he also recognizes the importance of knowing that he's done the best job he can possibly do. As an artist, he values a job well done for its own sake and takes great pride in the final results of his work – much of which can be viewed on his website.
Dr. Yates cites his entire practice as his greatest success. Suburban Utah is hardly the first thing that comes to mind when most people think of plastic surgery, so to build a thriving practice there promised to be a unique challenge. Dr. Yates, however, aced it and takes tremendous pride in having done so. Perhaps his greatest success stories are all of those individuals that might not have had such ready access to these types of surgeries had he not brought them to their door.