If you are considering large breast implants, there are many potential downsides you should consider.
When it comes to choosing breast implants, there's no one-size-fits-all answer. What some patients and surgeons might consider too large will seem perfectly normal to others. However, most plastic surgeons agree that there is such a thing as going too big.
Why do some women choose very large implants?
A woman may decide to get large breast implants if that's what best fits her frame. While plastic surgeons often caution against going too big because it might result in a disproportionate look, for some women it's quite the opposite.
"I work with a large number of fitness competitors in my practice," says Englewood, Colorado plastic surgeon Greg Buford, MD. "Obviously, they're more muscular and have a different body type than your average breast augmentation patient. Their shoulders tend to be broader, so they require more volume to achieve a proportionate look."
Other women wish to stand out with a more attention-grabbing appearance, even though others may think it looks fake.
"In my experience, patients who opt to get breast implants are looking to feel more sexy and confident," says Dr. Kim Carpin, a board-certified plastic surgeon in Houston, Texas. "I may ask a patient if she would like others to notice her augmented breasts, and the answer is 'yes' with women seeking larger augmentations. These women aren't looking for a natural look, but rather an augmented, rounder breast."
Another scenario in which some women choose to get large implants is during post-mastectomy breast reconstruction. New Jersey plastic and reconstructive surgeon Dr. Thaddeus Boucree compares this to the silver lining of an otherwise dark cloud after cancer. "Women who are naturally large tend to want reconstruction with smaller implants, while women who are naturally small generally want to go bigger. Usually, we can give the patient the results that she wants," he says.
But it doesn't come without risks.
"The skin flaps can be too thin after a mastectomy," Boucree explains. "Reconstruction with a large implant may not be possible, even in a two-stage procedure." Risk and benefits should always be weighed, but Boucree says that if the skin envelope permits it he will perform post-mastectomy breast reconstruction with implants of up to 800 cc, which is currently the largest size silicone implant allowed in the U.S.
When is "large" too big?
According to the American Society of Plastic Surgeons (ASPS), in an optimal scenario breast enlargement should create a balance between the chest and the rest of the body, and the result should be natural-looking. The ASPS feels that for most women, increasing their breast size by more than two cups is unnecessary. Going beyond that can pose certain risks, including scarring and breast sagginess.
But for a variety of reasons, not all women heed this advice — or even know about it. According to Austin, Texas cosmetic and reconstructive surgeon Andrew P. Trussler, MD, many breast enhancement patients share common misconceptions about large implants. "Most commonly, large breast implants are chosen to fill and lift the sagging breast. This only causes the breast to sag even more," he says.
Buford says that when his very young clients tell him they're looking for a voluptuous look, he often has to explain at length the nature of stretched-out skin. "Once the tissue is stretched and the breast begins to sag, it's hard to go back. A breast lift — and its associated scars — may be the only solution."
Breast Lift Scar Prevention: Top Products
Your surgeon's post-surgical instructions will undoubtedly include wearing a compression bra and using silicone-based scar sheets.
Compression garments promote blood flow to the operated area, while silicone gel sheets improve skin hydration and encourage collagen production, leading to flatter and more faded scars.
Some topical medications, and even home remedies — onion extract and aloe, for instance — can also help speed up the healing process and minimize the appearance of scars. In fact, many popular scar fading creams use natural ingredients in conjunction with other healing agents such as retinyl palmitate and hyaluronic acid.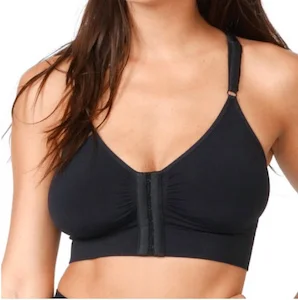 Unlike more bulky medical bras, RxBra allows you to recover in style and feel good about how you look immediately following surgery. It comes with padded backing and front clasps, making it easy to get on and off — even when your movements are restricted.
These silicone gel sheets are specifically designed to minimize and fade scarring on the areola. Biodermis' thin design makes the circles cling closely to the body, allowing them to be comfortably worn under clothing. They can also be trimmed to the right diameter.
Fade Away's scar treatment sheets can be used anywhere on the body. They come in long, 1 inch-wide strands that can easily be cut to precisely cover your scars. Each pack holds a 72 inch (182 cm) roll of silicone sheets, and each sheet can be reused up to seven times.
This scar fading cream uses natural ingredients to correct stretch marks, burns, and surgical scars. Zax's Cream was developed by pharmacists, and promises noticeable improvement after four weeks of applying the cream twice daily on new scars, or twice daily over two months for older scars.
Pureauty Naturals' gel contains comfrey root, organic aloe, and onion bulb extract. It works best when applied to new scars, but it can be used to help fade old scars as well. Newer scars benefit from daily application over an eight week period, while older scars require three to six months of daily application.
During these preliminary conversations Buford also points out that larger implants can interfere with recreational activities and adversely affect athletic performance. "The issue isn't so much with stretching the muscle; it's more related to the weight of the implants and the potential for them interfering with, for example, a golf swing, or running, etcetera," he says.
Another reason to avoid extra large implants is if they will result in a disproportionate appearance. All of the experts we spoke with agreed on this point.
"Clothing may no longer fit or drape correctly and a patient may have trouble fitting in to bras from stores like Victoria's Secret," says Carpin.
For this and other reasons, Carpin strongly discourages oversized breast augmentation. But she also points out that the volume of an oversized implant varies based on the patient's height and weight.
"For a petite patient, 450cc sized implants could be oversized, whereas in a larger woman, it could perhaps be anything over 600cc," she says.
The other reasons Carpin and most plastic surgeons discourage oversized breast implants are the many potential postoperative drawbacks. In addition to the issues mentioned above, oversized implants can lead to:
Implant visibility
Rippling
Loss of normal breast edges, including symmastia (uniboob)
Improper fit on the chest wall
Higher rate of implant malposition (too high or too low)
Compression of native breast tissue, which can lead to breast tissue atrophy
Sagging and/or thinning skin of the breast
Nipple sensation loss
Carpin adds that oversized implants may feel firmer because less breast tissue is present to cover the implant, especially if saline implants are used. She further points out that the weight of oversized implants can cause neck, shoulder and back pain, something echoed by the other surgeons we spoke with.
To avoid choosing an implant that is too large, women are advised to speak with their surgeon about the skin envelope that surrounds the implant. "The maximum implant size is limited to the skin envelope. When the implant cannot be camouflaged under natural breast tissue, the implant is too big," says Boucree.
Can surgeons refuse to use large breast implants?
While the patient's individual needs and desires are the most important factors in determining the best implant size, the surgeon also plays a big role. Some plastic surgeons discourage extra large implants in all or most cases, while others are fine with large implants as long as they fit the candidate.
Carpin notes that breast implant manufacturers produce silicone implants up to 800cc and saline implants up to 960cc, but special order saline implants can be custom made for patients that want to go even bigger. However, this doesn't mean that all surgeons will perform breast augmentation or breast lift surgery with these extra large implants.
"Larger implants, in my practice, are reserved for breast reconstruction after mastectomy," says Carpin. "My upper limit for cosmetic breast augmentation is around 550cc."
The starting point at Trussler's practice is below 500cc. He is also very selective with regard to larger implants, making sure that the right profile and shape are used, and that his patients are aware of the potential risks.
Still, Trussler says that he may offer higher volume implants to patients who have had implants previously. And while he considers 600cc large, patient height and size factor into the determination. "A 400cc implant will be large in a 4-foot tall patient but could be too small in a 6-foot patient," he says.
According to both Trussler and Carpin, a very high percentage of patients with large breast implants eventually inquire about breast reduction due to the long-term issues these implants can cause.
"If an implant is too large, the patient will be unhappy," says Carpin. "Slightly too small can be supplemented with padded bras, whereas oversized implants cannot be changed without undergoing surgery again. A second procedure not only costs money, but requires more recovery time and the resulting absence from work."
Of course, the same can be said of situations in which patients undergo secondary procedures to increase the size of their implants.
According to Buford, very few of the breast revision cases he sees involve breast reduction. "Most, in fact, have their implants increased," he says. "If you ask most women who have undergone a breast augmentation what her biggest regret is, more often than not she will tell you that she wishes that she would have gone bigger. I use implants all across the spectrum and am not afraid of large implants for the right person. The average cup size our patients shoot for is around a C or D, so our average implants range from the low 300s to the mid-500s, all depending upon the height, weight, and individual body type of our patient."
What's the right implant size for me?
In the end, it all comes back to choosing an implant size that you're happy with and fits your body. Your plastic surgeon should have an established protocol to help you make this all-important decision.
"In our office, we go through a sizing trial with implant sizers, then show the patient a Vectra 3D imaging of the implant size they chose to give them a sense of what it will look like," says Gary Breslow, MD, a board-certified plastic surgeon based in Paramus, New Jersey. "At the time of the surgery, I bring a few implants that are within that chosen range with the corresponding sizers. I create the implant pockets and then insert the sizers to see which one looks the best."
Breslow also makes sure to ask the patient whether she would rather be too large or two small. During surgery he can go a little fuller or a little less full. "If they want to be a 'C' I ask them, 'would you rather be a D or a B?' If they say a D, then I go for the C, but on the fuller size," he explains. "As a result, I've had very few patients complaining that they wished they went larger or smaller."
Your plastic surgeon should have some sort of comparable method. At your initial consultation, ask how he or she can help you determine the right size implant for your body.